Pat Carroll Brent 7063 I Know b/w Chained To a Memory WL Promo Rare!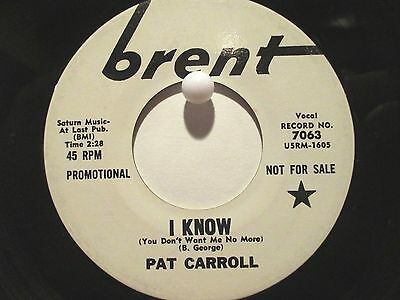 Sold Date: June 11, 2019
Start Date: September 27, 2015
Final Price: $65.00 (USD)
Seller Feedback: 771
Buyer Feedback: 857
Audio Clips:
To hear audio clips older than 45 days you must become a member. (If you're already a member you need to log in or extend your membership.)

Watch this video on and learn how to get yours free!
isnw_ecp Pat Carroll originally hailed from Australia and is famously known as one half of the singing duo Pat & Olivia.  The "Olivia" was a teen Olivia Newton-John.  Check out the video on YouTube of the duo singing "Today" on Bandstand - classic video, classic mini-skirts, classic 60's hair.  Pat Carroll released a number of singles in the 60's, mostly in Australia, and this is her only 60's release on a US label.  It is her fuzz guitar take on Barbara George's hit "I Know".  She also sang background on a number of Olivia Newton-John solo albums.  The vinyl grades a very strong VG with excellent gloss, very light hairlines that cannot be felt nor heard, plays a solid VG+.  Take a listen!  Labels are VG++, bright and white with only light rubbing wear, no marks.  A nice piece, and a rare one! 
If a sound sample is included above for a 45 single, it is from the actual record.  Both sides will be played on the sample, about 45 seconds of each.  
Free domestic US standard shipping!  See below for cost of US Priority Shipping, International Shipping.  PLEASE DISREGARD EBAY'S AUTOMATIC SHIPPING CALCULATOR FOR INTERNATIONAL SHIPPING - SERVICE USED (AND COST) WILL DEPEND ON THE VALUE!  SEE COST BELOW.  PLEASE WAIT FOR AN INVOICE!  I ship using new packaging materials, no shipping in a used Tide box! Shipping includes the cost of the materials: PRIORITY 7" DOMESTIC shipping: 1-9 7" for $7.00; 10-13 7" for $11.00; 14-18 for $11.50 INTERNATIONAL 7" shipping (Canada $2 less): SHIPMENTS VALUED UNDER $150 (USPS First Class International):1 for $14.00; 2 for $15.00; 3 for $15.50; 4-6 for $16.50; 7-9 for $18; 10-13 for $20 [USPS First Class International].  SHIPMENTS VALUED OVER $150 (USPS Priority Express):  Up to 13 7": $30.00
Quotes provided for others quantities or mixed shipments. 
RECORD GRADING (SEE PHOTOS FOR NOTED DEFECTS):
Mint (M)
(only if sealed).  Not used for 7".
Near Mint (NM):
Very little evidence of use, glossy surface, minimal vinyl marking; labels are clean and crisp with no writing, ring wear or significant spindle marking; jackets are clean and square, no writing, no splits, no ring wear.
Very Good+ (VG+) :
Vinyl shows use but has been well cared for, surface has light scuffs or very light scratches (not feelable) that will not significantly degrade the sound; labels are clean with only minor ring wear, any writing or sticker/residue is discrete, only slight soiling or dirtiness, drill hole OK if label otherwise clean; jackets are clean with no more than light ring wear, minor corner dings, if writing on the cover it is discrete, no more than one slight seam split, light creasing, cutout hole or corner only if rest of jacket is free of defects - multiple flaws of the types described will drop grade.
Very Good (VG):
 Vinyl shows significant use with more scuffing or light scratches but will play through without skipping, may be slight warping but will play through (without having to tape a penny to the tonearm like the old days!) and nothing that will cause a significant bobbing of the tone arm, will have surface noise particularly at intro and in soft passages, dimished or irregular gloss; labels may have significant ring wear, more prominent writing or stickers/residue, drill hole, more soiling or dirtiness; sleeves may have multiple splits, writing, creasing, soiling or dirtiness, drill holes or cut corners, and/or ring wear.  This is a common grade for older 45's - they were often stored outside of the sleeve which lead to multiple light surface hairline scratches which have not caused significant damage to the vinyl grooves - they will still afford an enjoyable listen.
Good (G):
Infrequent grade usually only applied to rare items, or to one aspect (i.e. the sleeve) if another aspect (i.e. the vinyl) is a significantly higher grade.  Vinyl may have significant scuffing or scratching, poor gloss, significant noise on playing but should play through; labels may have glaring writing, significant ring wear, extensive sticker residue, dirtiness; sleeves may have substantial ring wear, extensive seam splitting, taping, prominent writing. Additional pluses and minuses used to fine tune ratings.  PLEASE SEE PHOTOS - I TRY TO SHOW ALL SIGNIFICANT CONDITIONS!
Items are guaranteed and price refunded if returned in the same condition as dispatched.  Shipping costs refundable only if, in my opinion, I have mistakingly misrepresented or misgraded the item.