SWAMP RATS Psycho / Here There Everywhere ST. CLAIR 2222 M- Listen!! GARAGE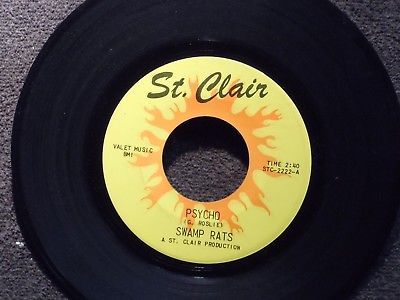 Sold Date: December 6, 2017
Start Date: November 30, 2017
Final Price: $300.00 (USD)
Seller Feedback: 13616
Buyer Feedback: 1827
Audio Clips:
To hear audio clips older than 45 days you must become a member. (If you're already a member you need to log in or extend your membership.)
FORMAT: 7" 45 SINGLE  
ARTIST: SWAMP RATS
TITLE: PSYCHO / HERE THERE EVERYWHERE
LABEL: ST. CLAIR   
NUMBER:  2222     
LABEL DESCRIPTION:  STOCK COPY -  
GRADE:  M-  (PERFECT COPY!!!) 
ADDITIONAL NOTES: ORIGINAL COPY-NOT A REISSUE!!!         
Another classic from the Mojo Boneyard. Postage will be paid by the buyer. No handling fees will be charged.
LISTEN!!