George Harrison Billy Preston Ringo Starr Concert Bangadesh Alt Acetate Beatles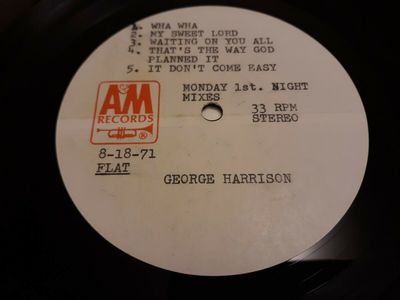 Sold Date: February 13, 2020
Start Date: February 13, 2020
Final Price: $4,999.99 (USD)
Seller Feedback: 236
Buyer Feedback: 1659

George Harrison Billy Preston Ringo Starr Unreleased Alternate One Sided Acetate Version of Side 2 of a 3 LP Box Set from 1971 known as  "The Concert For Bangla Desh" Apple STCX 3385

This disk was mastered by the engineers at A&M Studios at the direction of Phil Spector and George Harrison

The Disk Is a Strong VG+ Almost Near Mint
The one sided acetate contains all of the songs from side 2 (which on the standard 1971 album release was a George Harrison side with one Billy Preston track) of the 3 LP Box set which is the 1971 Apple Records three record album box set called " The Concert for Bangla Desh"
All of the first four songs are in the same order on this pre production reference acetate as the songs that are on side two of "The Concert for Bangla Desh" 1971 album release but the critical difference is that there is the inclusion of the Ringo Starr song "It Don't Come Easy" on this disk which was included as part of the 1971 set but was on side 3 of the 1971 set.
The part of this acetate disk that I listened to leads me to believe that the mix of this entire acetate side is very different from side two of the 1971 Concert for Bangla Desh record album release.
(The photo of Side two of the 1971 Concert for Bangla Desh is included for comparison only)




From the personal collection of a former record company executive who worked for both Apple Records and Phil Spector Productions.