BEATLES YESTERDAY AND TODAY (EXT RARE 1966 2nd STATE BUTCHER W MISALIGNED SLICK)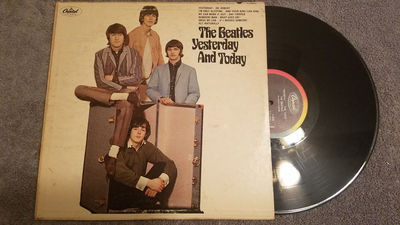 Sold Date: February 12, 2018
Start Date: February 7, 2018
Final Price: $950.00 $700.00 (USD)
Seller Feedback: 703
Buyer Feedback: 507

Artist
The Beatles
Title
Yesterday And Today (T 2553)
Stereo / Mono
Mono
Label
Capitol
Pressing
1966 First Pressing
Record Grading (Cover / Vinyl)
Cover: VG/VG+
Record: VG/VG+
Additional Notes
EXTREMELY RARE 1966 Second State Butcher Cover with Misaligned Front Cover Slick!
Because Capitol took great care in concealing the Butcher Cover hidden beneath, these "Misaligned" front cover slicks are few and far between and are considered extremely rare!
COVER
Ringwear
Moderate
Edgewear
Moderate
Storage Wear
Light to Moderate
Seam Splits
Top Seam: Two Splits; Approx. ½" and ¾" respectively.
Additional Notes
There is a light to moderate amount of staining and discoloration present on the front and back cover.
VINYL
Surface Scratching
Light
Scuffing
There is a moderate amount of scuffing and needle scuffing present on both sides of the record.
Play Tested
Yes
Surface Noise
Light to Moderate
Skips
1 Non-Repeating Skip on "And Your Bird Can Sing"
Additional Notes
A very enjoyable listen!
MATRIX INFO
Side 1
T-1-2553-G-20
Side 2
T-2-2553-G-18
Additional Notes
There is also a number "2" and an asterisk "*" stamped into the dead wax of both sides of the record.
DON'T MISS OUT ON YOUR CHANCE TO ADD THIS CLASSIC ALBUM TO YOUR COLLECTION TODAY! IF YOU HAVE ANY ADDITIONAL QUESTIONS ABOUT THIS RECORD, PLEASE FEEL FREE TO MESSAGE ME. HAPPY BIDDING!


A NOTE FROM THE SELLER:

Please note that this item is being sold AS IS with NO REFUNDS. Please ask any and all questions before bidding on this item. Thank you!

Also, please note that as the seller, I have no control over the amount of care given to the item once it is out of my hands. Therefore, I cannot be responsible for any postal error (including, but not limited to, damage and non-delivery) that may occur during the shipping process. ALL items will be posted with a tracking number so you can keep track of the item as it is being shipped to you. Also, Shipping Insurance can be added to ANY item (at the buyer's expense) should you wish to further protect it. Please be advised that if you do not ask for Shipping Insurance to be provided, I cannot be responsible for any postal error that may occur during shipment. While it is a rare occurence, it does happen. Should you wish to add Shipping Insurance, simply purchase your item then message me before payment and I will add the amount of the Shipping Insurance to your final total. Thank you for your cooperation.

A NOTE TO INTERNATIONAL BIDDERS:


I am pleased to announce that I can now offer INTERNATIONAL SHIPPING through eBay's Global Shipping Program! I welcome and encourage all new bidders and look forward to your business! That being said, there are a few rules to which each bidder must agree before placing a bid. Please note that as the seller I am NOT responsible for the following:

1.  PRICE OF SHIPPING (This is set by eBay's Shipping Center. I have no control over the amount they will charge. The only money I am receiving from you, as the buyer, is the item price and the cost of shipping for me, the seller, to ship the item to eBay's Shipping Center.)

2. TOTAL TIME OF SHIPMENT (As I stated above, the item first has to be shipped by me to the eBay Shipping Center. This will be done within three days of receiving payment from you for the item.  The item will usually take four to six days from time of shipment by me to reach the eBay Shipping Center. From there, it will be shipped by eBay to your address. You will be given a Global Tracking Number so that you can track the item as it is being shipped. Please note that I have no control over the time it will take for the item to reach you after being shipped from the Shipping Center.)

3. DAMAGE OR LOSS OF ITEM (As the seller, once the item leaves my hands, I have no control over the care this item will be given by the USPS, eBay's Shipping Center and the various people responsible for getting this item to you internationally. While every precaution will be taken, (proper packaging, the request for and use of proper stickers and stamps (fragile, handle with care, etc.)) I cannot guarantee the item will arrive without damage and/or not be considered "lost" in transit. While this is a rare occurance, it does happen. Should this happen during our transaction, please note that the best I can do is to contact eBay and request a refund on your behalf.)

Finally, please note that ANY AND ALL items purchased through eBay's Global Shipping Program are sold AS IS with NO REFUNDS... NO EXCEPTIONS!

If you cannot agree to these terms, please do not bid on this item. However, If these conditions are acceptable to you, please feel free to purchase this item.  I look forward to and welcome your business. As always, if you have any additional questions, please feel free to message me. Happy Bidding!


BELOW I HAVE POSTED THE GRADING SYSTEM I USE FOR ALL MY RECORDS:

SEALED: Sealed at factory and never opened. Vinyl is assumed to be mint, but cannot be sure until opening.

NM: When I grade something near mint, you know the only thing that isn't perfect about it is that someone actually opened it. There could be a light scuff mark or two from taking it out of the sleeve. The jacket will look like new.

VG++: These LPs appear not to have been played more than once or twice. You can expect to see scuffs or other insignificant surface marks ­ very minor ­ that will have no effect whatsoever on the sound of the recording. Jacket will show very slight, just beginning ring wear. Maybe a little wear in the corners.

VG+: Records in this condition have obviously been played a few times, though they have been well taken care of. You can expect to see a few light marks, but they should have a minimal effect, if any at all, on the sound of the recording. Jacket will very likely show noticeble ring and edge wear and maybe one or two other minor flaws. Anything more will be noted.

VG: These albums have been played quite a few times and although not abused you will see and hear signs of use. But, the music will dominate your listening experience and you shouldn't be overwhelmed by the various vinyl nuances, such as tics, pops, crackles and hisses. You should still be able to sit back and fully enjoy listening to an album in this condition.
Jacket will have a number of flaws, such as heavy ring and seam wear, writing, small seam splits, stickers, etc.

G: I try not to go here, but if it's a rare or exceptionally great piece of music that must be heard, then I'll offer it. But the noise will be very noticeable, and you'll want to find a better copy. Still, the record will be fully playable, and you should enjoy it because it's such wonderful music. Jackets in this condition will have large seam splits, large writing, paper tears, or water damage. But it will still be fully capable of protecting the album inside.

F: I'll never go here on both the vinyl and jacket. This would have to be a case where the vinyl was playable with a bad jacket OR a real special jacket with the record not of much use. You won't see this very often!