*Pre* Steely Dan Demo Acetate Of Everyone's Gone To The Movies Becker Fagen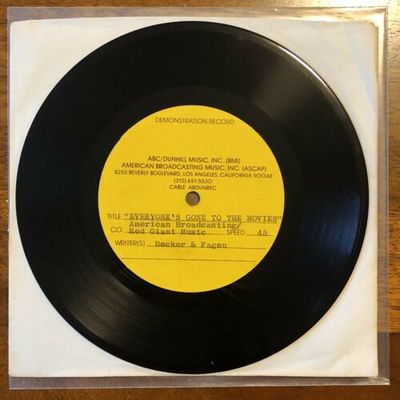 Sold Date: May 21, 2020
Start Date: May 17, 2020
Final Price: $499.99 (USD)
Bid Count: 1
Seller Feedback: 543
Buyer Feedback: 3290

*Pre* Steely Dan Demo Acetate Of Everyone's Gone To The Movies Becker Fagen. Condition is Used.
If you're a Steely Dan fan or collector, don't miss out on this! This piece is the rarest Steely Dan item you will ever lay your hands on.
So what do we have here? Well this was the original acetate made by ABC records so some executives to listen to the talent of two guys named Becker and Fagen. Turns out they gave it the thumbs up and eventually Steely Dan was born.
The song on this acetate is the DEMO VERSION of "Everyone's Gone to the Movies". This was written and recorded well before their first album Can't Buy a Thrill was made. A totally different version of this song was recorded for their Katy Lied album. This particular demo version at some point found it's way onto the CD box set, Citizen. The liner notes for the box set say this about it:
"One realizes that the addition of outtakes, demos, remixes and so on can enhance a collection of frequently repackaged product. In our case, though, the shelf is pretty much empty. One decent find was a somewhat lame experimental version of "Everyone's Gone To The Movies" that somehow survived storage in a damp, verminous locker for over twenty years. This might be added, not only for historical reasons, but also to give Flo and Eddie (who harmonized on the chorus) the proof they've always needed to back up their assertion that they worked with us in the "old days". Furthermore, the inclusion of this track (an unused B side from the original band's first studio sessions, which predated "Can't Buy A Thrill" by almost a year) might serve to curb the brisk trade in bootleg editions of this and various other demos, live recordings, etc., that now glut the "import" racks of the very same stores that sell our legitimate albums."
So that is what is on this disc. Next question, what is an acetate? Well an acetate was a one off recording. A record company would take a tape with a song on it and play it into a machine that would cut the acetate disc. The disc itself was coated in lacquer and it would be cut on a device that was sort of an "opposite" record player. Acetates were never meant to last. They were not meant for repeated play. They were strictly used to make a quick disc so somebody could conveniently hear something. So as such, it is even more amazing this lasted. Steely Dan's demo just sitting here. Now it can be yours.
As for condition, the label has some lifting as can be seen. The side with the music (this is one sided) looks beautiful with no scratches or scuffs. However it does have some noise/crackle on playback as any old acetate would. Please follow the link to my YouTube page and hear the actual recording. The crackle isn't quite as loud as the video makes it sound but it's there and I'd rather you know exactly what you're getting. The blank side has some scuffing. Comes in a generic sleeve with a copy of the music. No idea where the sheet music was from but it was with the disc when I bought it.
Again, please note these were not meant for repeated play! This is a one of a kind piece of history and needs to be preserved as such. If you're researching this on the internet, please note the Discogs entry for this is of my copy. There are no other known copies, to my knowledge.
Cut and paste this to your browser: https://youtu.be/cZ-jWLGvu_I
Shipping will be $20 via insured Priority Mail to the 48 states. Please do contact me with any questions or concerns you have about this.