IRON BUTTERFLY LP LOT - IN-A-GADDA-DA-VIDA/LIVE/EVOLUTION (BEST OF) yellow atco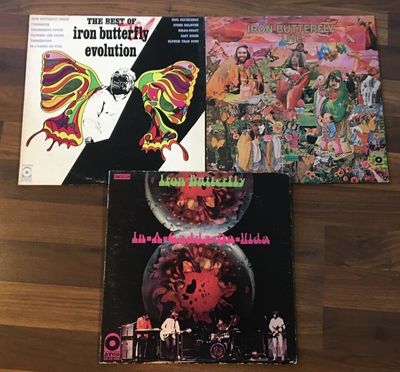 Sold Date: June 8, 2019
Start Date: June 3, 2019
Final Price: $15.00 $12.00 (USD)
Seller Feedback: 4360
Buyer Feedback: 287

PLEASE READ ENTIRE LISTING BEFORE BIDDING
THIS IS A LOT OF 3 ALBUMS. THE LPS ARE IN STRONG VG CONDITION AND THE COVERS ARE VG, EXCEPT FOR THE "EVOLUTION" COVER, WHICH IS VG- WITH RED MARKINGS ON THE FRONT. THESE ALBUMS WILL INCLUDE INNER SLEEVES, BUT NOT PLASTIC OUTER SLEEVES.
ALL LPs ARE VISUALLY GRADED UNLESS STATED OTHERWISE
I AM HAPPY TO COMBINE ON SHIPPING. IF YOU ORDER MORE THAN ONE ITEM, PLEASE REQUEST AN INVOICE.
GRADING
MINT - Only used for sealed LPs.
NM - Only the slightest signs of wear to LP and cover.
VG+ - Vinyl will have light scuffs or marks that don't hinder playback. Cover will show light wear (small seam split, minor stain, minor ring-wear, minor tape, etc.)
VG - Vinyl will have visible, often mild surface wear that may result in some surface noise. Cover will have noticeable wear (ring-wear, light tape, minor tears, small seam splits, etc.)
VG- - Vinyl will have moderate to heavy scuffing that should cause no skips, but a fair amount of surface noise. Cover will have extensive wear (extensive tape and/or seam-splits, heavy ring-wear, water damage, tears, etc.)
G - Vinyl will have very heavy scuffing and some deep scratches. It might play with a skip or two. Cover will show major wear.
POOR - Vinyl is borderline unplayable. Expect possible skips and jumps. Cover will have major defects.