SHIRELLES~TONIGHTS THE NIGHT~INSANELY RARE ORIG'62 SCEPTER STEREO LP~SHRINK~MINT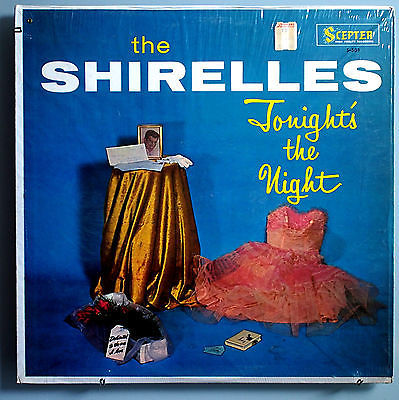 Sold Date: March 19, 2017
Start Date: March 12, 2017
Final Price: $790.00 (USD)
Bid Count: 21
Seller Feedback: 21200
Buyer Feedback: 2764

<img src= http://pics
WE CURRENTLY HAVE  MORE THAN 300  LISTED ITEMS
► ► ► ► ►  ► ► ► ► ► ►► ► ►  ► ► ►  ►
♫♪♫♪♫♪♫♪♫♪♫♪♫♪♫♪♫♪♫♪♫
·       THE SHIRELLES - TONIGHT'S THE NIGHT (THE GROUP'S FIRST ALBUM)- ULTRA RARE ORIGINAL TRUE STEREO LP (SHIRELLES STEREO ALBUMS ARE SO INCREDIBLY RARE THAN NOT EVEN SOME OF THE HARDCORE COLLECTORS HAVE SEEN SOME OF THE TITLES) – ORIGINAL 1965 SCEPTER RECORDS STEREO LP SPX-501 
·       ORIGINAL U.S. PRESSING
·       (NOTE: THE ORIGINAL MONO PRESSING OF THIS ALBUM WAS RELEASED IN 1961, WHILE THE BIZARRELY RARE STEREO VERSION WAS NOT RELEASED UNTIL 1964/65; BY THE TIME STEREO VERSIONS APPEARED ALMOST FOUR YEARS AFTER MONOS, THE RARE 'SCROLL' MONO SCEPTER LABEL HAD CHANGED TO A NEW, BLACK AND RED SCEPTER LABEL YOU SEE ON OUR IMAGES. ONLY THE FIRST MONO PRESSINGS EXIST ON THE 'SCROLL' LABELS)
·       MONSTROUSLY RARE STEREO PRESSING, MANY TIMES RARER THAN MONO – THE STEREO VERSION OF THIS ALBUM HAS BEEN OFFERED ON EBAY ONLY FIVE TIMES IN THE PAST FIVE YEARS. DO YOU REALLY WANT TO WAIT ANOTHER YEAR BEFORE ANOTHER COPY AS BEAUTIFUL POPS UP?.
·       THE WAND/SCEPTER LABEL WAS NOTORIOUS FOR ISSUING STEREO ALBUMS ONLY VERY RARELY, SOMETIMES YEARS AFTER THE ORIGINAL MONO PRESSINGS WERE RELEASED, AND EVEN THEN ONLY IN VERY LIMITED PRESS RUNS (SOMETIMES LESS THAN 500 COPIES EACH). ORIGINAL STEREO PRESSINGS BY SHIRELLES, ISLEY BROTHERS OR MAXINE BROWN ARE NEARLY IMPOSSIBLE TO FIND. THIS IS ONE OF THOSE RARE SPECIMENS.
·       ORIGINAL RED, BLACK AND WHITE SCEPTER LABEL
·       MONO COVER (NONE OF THE SCEPTER/WAND RARE STEREO RELEASES EVER HAD A PROPER, CUSTOM STEREO COVER; THE DISC CAN ONLY BE IDENTIFIED AS STEREO BY THE STEREO BANNER ON THE LABELS; IN MANY CASES, THE ORIGINAL BUYERS APPARENTLY DIDN'T KNOW WHAT THEY WERE BUYING)
·       THIS IS THE ORIGINAL, AUTHENTIC, FIRST U.S. STEREO PRESSING; THIS IS NOT A REISSUE, AN IMPORT, OR A COUNTERFEIT PRESSING.
·       ORIGINAL, THICK CARDBOARD COVER (AMERICAN STYLE)
·       ORIGINAL LAMINATED COVER
·       COVER IS STILL IN ITS ORIGINAL SHRINK (CELLOPHANE) WRAP
·       MATRIX NUMBER IN TRAIL-OFF VINYL (DEAD WAX) ENDS WITH '-1A/-1A'.  ON SOME LABELS,  SUFFIX '–1' DENOTES THE VERY FIRST, ORIGINAL PRESSING)
·       MACHINE-STAMPED MATRIX NUMBER IN TRAIL-OFF VINYL (DEAD WAX) OF THE RECORD (ON ONE SIDE ONLY)
·       CLEAN, WEAR-FREE LABELS
·       THICK, HEAVY VINYL PRESSING
 (►PLEASE SEE THE IMAGE OF THE COVER, LABEL OR BOTH, SHOWN BELOW)
(Note: this is a REAL image of the ACTUAL item you are bidding on. This is NOT a "recycled" image from our previous auction. What you see is what you'll get.  GUARANTEED!)
♫♪♫♪♫♪♫♪♫♪♫♪♫♪♫♪♫♪♫♪♫
The Shirelles' first album was, in common with many debuts by hitmakers of the early 1960s, utterly dominated by the hit singles included on the LP. On Tonight's the Night, these included not only the title track, but also "Will You Love Me Tomorrow," "Dedicated to the One I Love," and an honorary hit in "Boys," the B-side of "Will You Love Me Tomorrow" (and made into a standard in its own right via a cover by the Beatles). These tracks are excellent, and appear on virtually any comprehensive Shirelles best-of. The other cuts are filler by comparison, though still pleasant for the period pop-soul-early girl group production if nothing else. Of those other songs, Luther Dixon's smoldering "Fever"-like "You Don't Want My Love" stands out, while "Unlucky" is notable for later appearing on Dionne Warwick's debut album. For the most part, even more so than some other Shirelles' long-players, the LP evokes a bygone era when innocuous young love and its accompanying hurts were the centers of many teenagers' universes.
 (EXCERPT FROM AN ONLINE REVIEW BY RICHIE UNTERBERGER, ALL MUSIC GUIDE  /ALLMUSIC.COM/)
***
The progenitors of the girl-group sound and probably the best known (and The Best!) girl-group of all times (Supremes notwithstanding), Shirelles were a proverbial Alpha and Omega of the Girl-group sound which pretty much defined early 1960's. We have here their very first album, from 1960, on the mighty rare first pressing, with a 'scroll' Scepter label. The album includes the girls' signature tune, the Carole King-penned classic "Will you still love me tomorrow" plus their classic rendition of the Five Royales' "Dedicated to the one I love", another Shirelles chartbuster. Finding a GORGEOUS TRUE STEREO original copy?!?! Forget it – not even a HOPE!!! This may be the last one you will ever see.
For additional historical information on this album, including track listing ►
♫♪♫♪♫♪♫♪♫♪♫♪♫♪♫♪♫♪♫♪♫
·       CONDITION:
·       RECORD
 (IMPORTANT NOTE: unless otherwise noted, ALL records are graded visually, and NOT play-graded!; we  grade records under the strong, diffuse room light or discrete sunlight)
(a)          WE GRADE THE VINYL  AS  (WEAK) NEAR MINT. Some VERY LIGHT AND SUPERFICIAL abrasions – mostly sleeve scuffs -  are (barely) visible, but are probably inaudible,  and do not affect visual integrity or beauty of the vinyl. The original luster is very much intact, and the vinyl shines and sparkles almost like new.
(b)          The record is pressed on a beautiful, thick, inflexible vinyl, which was usually used for the first or very early pressings. Usually, the sound on such thick vinyl pressings is full-bodied, vivid, and even dramatic. Do not expect to obtain such a majestic analog sound from a digital recording!
(c)           Stereo  pressing of this title is much rarer, and by far more preferable to its mono  counterpart. The mix is more graphic, the sound resolution more precise, and the channel separation (which does not exist on mono version) adds a whole new dimension to the music. Also, the stereo mixes are (by definition) somewhat different than on the mono version. We estimate that mono copies of this album outnumber stereo copies  by a ratio of at least 30:1.
(d)          The record comes in the original stock inner sleeve.
(e)           Of course, this is a full-bodied ANALOG recording, and not an inferior, digital recording!!!
·       COVER (THIS IS THE ORIGINAL, LAMINATED, GLOSSY COVER):
COVER IS STRONG NEAR MINT,  STILL IN ITS ORIGINAL ►SHRINK WRAP
The following flaws or imperfections are noted on the cover:
-        The cover has a tiny, inconspicuous,  metal ring in the upper left corner, indicating that the album was the property of the radio or broadcasting station.
-        Cover has a few tiny wrinkles along the top seam
NO OTHER IMPERFECTIONS ON THE COVER:
-        No split seams
-        No ring wear
-        No cut-out (drill) holes.
-        No cut-out corners
-        No saw-marks or indents
-        No dirt/dust rubbing stains (friction marks caused by rubbing against other covers)
-        No yellowing from aging
-        No writing
-        No stamps
-        No tearing: no chips, dents or nicks on the seams
-        No peel-off marks
-        No stains
-        No mold or mildew spots
-        No stickers or labels
-        No water damage
-        No razor marks, scratches, pressure marks, lines, streaks, or  cuts.
-        No warping
-        No wax, glue, paint or liquid drops on the cover
-        No glue traces or wax residue.
-        No bar codes
-        No RIAA stamps or stickers. 
♫♪♫♪♫♪♫♪♫♪♫♪♫♪♫♪♫♪♫♪♫
POSTAGE & SHIPPING:
We offer THREE postage rates for both Domestic and International Mail: Media Mail, Priority Mail and Express Mail for domestic, and First Class, Priority International Mail, and Express International Mail for international orders. INTERNATIONAL CUSTOMERS PLEASE NOTE: WE RECOMMEND that you pay for USPS International Priority Mail OR International Express mail when making a payment in order to obtain tracking information, which is NOT available for First Class International shipments.
INTERNATIONAL POSTAGE rates vary from country to country. For SPECIFIC international and domestic postage rates ►. While you can be rest assured that ►, please note that damage, loss or theft in transit is always possible, and in the case of some countries even PROBABLE. To discuss this potential problem and ensure flawless delivery, please contact us thru eBay BEFORE placing a bid.
WANT A DISCOUNT ?!? 
IT'S EASY: CLICK ► TO see HOW!
(please note recent changes in our policy)
♫♪♫♪♫♪♫♪♫♪♫♪♫♪♫♪♫♪♫♪♫
FOR OTHER IMPORTANT INFORMATION, CLICK ON THE LINKS BELOW:
► ►► ► ► ► ► ► ► ►
♫♪♫♪♫♪♫♪♫♪♫♪♫♪♫♪♫♪♫♪♫
OUR REFUND POLICY :
WE OFFER UNCONDITIONAL MONEY-BACK GUARANTEE WITHIN 30 DAYS FROM THE RECEIPT OF THE MERCHANDISE, NO QUESTIONS ASKED (THE BUYER PAYS FOR THE RETURN POSTAGE); Still sealed items MUST be returned sealed in order to be eligible for a refund Some restrictions apply. Please read our complete refund policy before placing a bid. ►  for the full text of our policy
© 2001,2007 MDJ. All rights reserved.