Lot of 17 Neil Diamond vinyl record albums in very good condition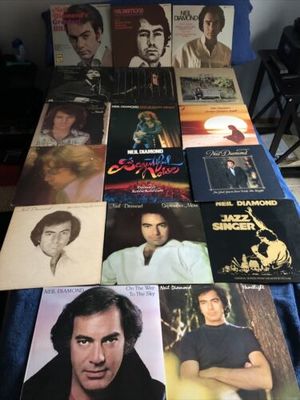 Sold Date: October 8, 2021
Start Date: October 1, 2021
Final Price: $27.00 (USD)
Bid Count: 7
Seller Feedback: 1375
Buyer Feedback: 0

Up for bids is this lot of 17 Neil Diamond vinyl record albums and they have all the features and no flaws.
There are 18 records altogether in 18 of its original record sleeves and 17 of its original covers and they're all in very good condition with a few scuffs.
Neil Diamond's career had 37 top 40 hits (from 1966-1982) from Cherry, Cherry to Heartlight.
The albums are as follows: Neil Diamond's Greatest Hits, Velvet Gloves and Spit, Brother Love's Traveling Salvation Show/Sweet Caroline, Touching You… Touching Me, Tap Root Manuscript, Stones, Moods, Hot August Night (2 record live album), Jonathan Livingston Seagull soundtrack, Serenade, Beautiful Noise, I'm Glad You're Here With Me Tonight, You Don't Bring Me Flowers, September Morn, The Jazz Singer soundtrack, On The Way To The Sky & Heartlight.
You'll enjoy these Neil Diamond vinyl records for years to come for your listening pleasure.
Please look at all the pictures.
I'm selling this lot of 17 Neil Diamond vinyl record albums for seven days only so please ask me, bid or buy it from me.
P.S. I sell everywhere around worldwide.