The Residents Meet the Residents RR 0274 1st Press! 12993A RR 02741 Mono VG 1974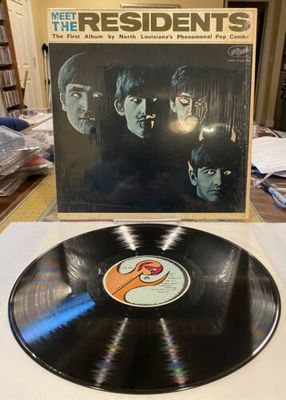 Sold Date: May 25, 2023
Start Date: May 18, 2023
Final Price: $315.00 (USD)
Bid Count: 21
Seller Feedback: 1532
Buyer Feedback: 1180

RECORD GRADE/CONDITION: VG
PLEASE READ THE DETAILS BELOW FOR AN ACCURATE AND PLEASANT BUYING EXPERIENCE.
THE GRADES BELOW WILL BE POSTED IN THE TOP FIRST LINE OF THE BUYER INFORMATION SECTION.
SLIGHT WAVE: record has just a slight "wave", barely noticeable while in rotation.
SLIGHT WARP: record has a noticeable, but minor warp to it during rotation.
MODERATE WARP: a noticeable warp to the record. Not terrible, or "trashed" by any means. If you have a good, balanced turntable you should be able to enjoy the record without any problems (other than the imperfection).
*I'm picky, so you may find any mention of waves or warps in the vinyl not as bad as I've graded them.* I just want to try and be as up-front and honest as possible so we'll both have a pleasant experience.
All LPs for sale are VINTAGE (late 60's through early 80's pressings) and CONSERVATIVELY GRADED from the collection of a long-time musician and record collector. **Most to all records grade a VG/VG+ which you may find lower than what the album would grade to you. Another-words, you will probably be pleasantly surprised at how nice the vinyl is on most. Why? Mainly because I don't believe in Mint/Near Mint grades, especially pressings that are this old. **Album covers speak for themselves, however I will note any possible splits or excessive wear. But please keep in mind, there are obvious signs of age on all jackets and inserts. Also, all albums come with their original inner sleeves. What you see is EXACTLY what you will get. I have listed the numerical code on the LPs if you need to further research via Google or Discogs.
Some of the records even have the original shrink, as seen in the pictures.
Some are cut-outs, some may be promotional, they will be noted as such.
International buyers are welcome from countries that are NOT considered problematic, (such as Brazil,Italy,Russia.. etc). International bidders will pay for First Class International, for speed and safety of their purchases.
I will not ship to suspicious addresses and have the right to deny selling to as such.
ZERO feedback or QUESTIONABLE buyers: email first before bidding to state your intentions on following through with payment. If this is not adhered to, I will cancel your bids. Please ask any reasonable questions BEFORE auctions end.
Shipping prices are FIRM and non-negotiable…however I DO combine shipping on multiple winning auctions. Please wait for an invoice for the combined shipping rate to save you money.
•UNITED STATES BIDDERS• I will ship your records MEDIA MAIL, but keep in mind MEDIA MAIL isn't physically protected or insured and takes much longer to receive your item(s). I package very well with plenty of well displayed fragile labeling, thus I accept no responsibility with what a postal agent may do in error. This being said, PLEASE be patient while waiting for your record(s) to arrive. **If you prefer Priority Mail for faster/insured shipping, the cost will be more. Please let me know first and I can accommodate this request.
ALL SALES ARE FINAL. NO RETURNS or REFUNDS. View my feedback and buy with Confidence!
Thank you and good luck on your auctions!