Kansas Rockin Instrumental 45 ~ Furys ~ D&D ~ Furyous ~ Listen!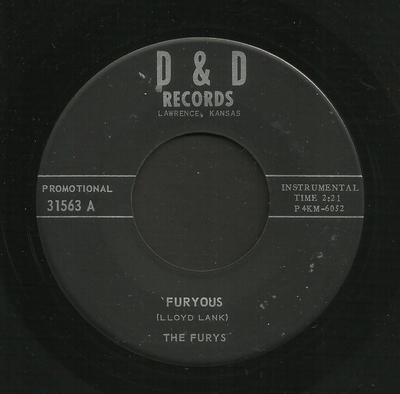 Sold Date: November 13, 2017
Start Date: November 6, 2017
Final Price: $73.22 (USD)
Bid Count: 12
Seller Feedback: 4627
Buyer Feedback: 812
Audio Clips:
To hear audio clips older than 45 days you must become a member. (If you're already a member you need to log in or extend your membership.)
The Furys
D & D 1563
Furyous / Gyration
VG+
Rare rockin instro twin-spin from Lawrence, Kansas
Please enjoy a recording from the actual record for sale  &  

Visual Grading Scale: I use Mint- / VG++ / VG+ / VG / VG- / G+ / Poor / Fair
All records are original pressings unless otherwise noted.
Win more than one record and save on shipping.