COLUMBIA SAX 2369-72 ED1 B/S MOZART Don Giovanni GIULINI 4LP Complete *NM*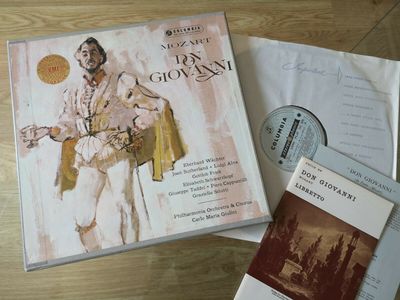 Sold Date: July 10, 2019
Start Date: June 30, 2019
Final Price: £315.00 (GBP)
Bid Count: 29
Seller Feedback: 1156
Buyer Feedback: 303

MOZART : DON GIOVANNI
GUILINI
COLUMBIA SAX SAX 2369-72 ED1 Blue Silver
 
Stunning copy which comes with Libretto and 2pp track listing.

RECORD CONDITION: NM
All records are in stunning NM condition. There are no spindle trails and it is hard to believe that this set has ever been listened to. I have only taken photos of one album as all four are of similar quality.
COVER CONDITION: EX
FRONT/BACK:  Minimal shelfwear to bottom of box. Otherwise in superb condition.

INSERTS CONDITION: EX
FRONT/BACK:  Track listing has light crease at top. Laminated libretto looks barely used but has some minor age discoloration and very minimal creasing.
Happy bidding! 
Please note I use UK Record Collector grading system for all albums with the addition of the accepted Near Mint category:
MINT: The record itself is in brand new condition with no surface marks or deterioration in sound quality. 
The cover and any extra items such as the lyric sheet, booklet or poster are in perfect condition.
NEAR MINT:  The record  appears new but is known to have been played because the label has light spindle marks or because it has come from a previous owner and is assumed to have been played by them EXCELLENT: The record shows some signs of having been played, but there is very little lessening in sound quality. The cover and packaging might have slight wear and / or creasing. VERY GOOD: The record has obviously been played many times, but displays no major deterioration in sound quality,despite noticeable surface marks and the occasional light scratch. Normal wear and tear on the cover or extra items, without any major defects, is acceptable. GOOD: The record has been played so much that the sound quality has noticeably deteriorated, perhaps with some distortion and mild scratches. The cover and contents suffer from folding, scuffing of edges, spine splits, discolouration, etc. FAIR: The record is still just playable but has not been cared for properly and displays considerable surface noise; it may even jump. The cover and contents will be torn, stained and / or defaced. POOR: The record will not play properly due to scratches, bad surface noise, etc. The cover and contents will be badly damaged or partly missing. BAD: The record is unplayable or might even be broken, and is only of use as a collection filler I try to be as accurate as possible, however, we are all human so if there are any problems please let me know.