DAVID BOWIE"STARMAN" SUPER RARE 7"JAPAN PRESS RCA 1972 UNIQUE SLEEVE NEAR MINT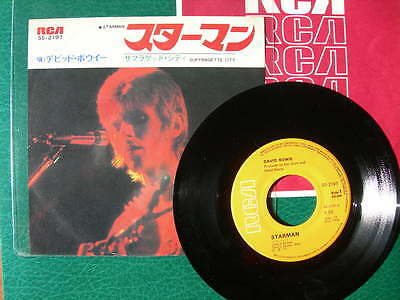 Sold Date: February 18, 2020
Start Date: February 13, 2020
Final Price: £29.99 (GBP)
Bid Count: 1
Seller Feedback: 341
Buyer Feedback: 197

FOR SALE MY SMALL COLLECTION OF RECORDS OF DIFERENT BANDS: PRETTY THINGS,THE YARDBIRDS,GENESIS,THE WHO,BLUES MAGOOS,THE SEEDS,KINKS,THE DOORS,TAGES,THE CREAM,J.HENDRIX,etc.etc.
Differents records that I´ll be putting on the Ebay auction every week.
This time you can buy this record:
ARTIST:  DAVID BOWIE
SONGS:  "STARMAN" - "SUFFRAGETTE CITY". 
LABEL:  RCA  ORANGE LABEL SS-2197
COUNTRY:  JAPON
YEAR: 1972
COVER CONDITIONS: EXCELLENT
     RECORD CONDITIONS: NEAR MINT  
    LABEL CONDITIONS: NEAR MINT
           COMENTARIOS: Super Rare JAPAN 7 " FIRST PRESSING 1972 UNIQUE PICTURE SLEEVE, RARE & SCARCE . This record with this sleeve is WANTED for the  record collectors Worldwide.
TOP CONDITIONS
This record is VERY HARD to find today in these conditions.
YOU CAN SEE MY OTHER RARE ITEMS IN THE EBAY AUCTIONS.
Please wait to receive our email invoice before making the payment.
                                                                                                                                                      THE RECORD PICTURED IS THE RECORD YOU GET.
I WILL LIST NEW RARE RECORDS EVERY WEEK.
 BIDDERS, CHECK THE SHIPPING COST BELOW. PLEASE, WAIT FOR MY INVOICE.
QUESTIONS ABOUT POSTAGE RATES WILL BE HAPPILY ANSWERED.
RETURN WILL BE ACCEPTED.
For your questions,please send me a message.
Thanks and good luck.
ONLY SHIP BY REGISTERED MAIL
SHIPPING & HANDLING CHARGES:
 REGISTERED AIRMAIL TO SPAIN: ONE 7" 6,10€ / TWO, THREE & FOUR 7" 6,10€
REGISTERED AIRMAIL TO EUROPE: ONE 7" 10,99€ / TWO, THREE & FOUR 7" 10,99€
REGISTERED AIRMAIL TO REST OF THE WORLD: ONE 7" 14,99€ / TWO, THREE & FOUR 7" 14,99€
Condition:
Mint: The record itself is in brand new condition with no surface marks. The cover and any extra items such as the lyric sheet, booklet or poster are in factory-fresh condition. This grading is nearly impossible for a 35 to 50 year old record.
Near Mint: The record is shiny and new looking with minimal or practically no use. There are no defects on the record or sleeve although the record is obviously not fresh-out-of-the factory.
Excellent: Similar to above but the record shows some signs of having been played. There is very little lessening in the sound quality. The cover might have very slight wear or creasing.
Very Good: This is a very misunderstood grade. It does not mean everything else which is not mint or excellent. It means that the record has obviously been played many times but displays no major deterioration in sound quality despite visible surface marks and some barely audible crackling. Normal wear on the sleeve  - nothing major like big tears or rips - is acceptable.
Good: The record has been played so much that the sound quality has deteriorated considerably, perhaps with some distortion or mild scratches. The cover and/or other contents may suffer from folding, scuffing of edges, spine splits, discoloration etc.
Fair: The record is still just playable but has not been cared for properly and displays considerable surface noise: it may even jump. The cover and contents may be torn, stained and defaced.
Poor/Bad: The record will not play properly due to scratches, bad surface noise etc. It may even be boken. The cover and contents may be badly damaged. This record may only be of use as a collection-filler.