Accept Russian Roulette LP Strong VG+ Vinyl Hard Rock Metal -Extra LPs Ship Free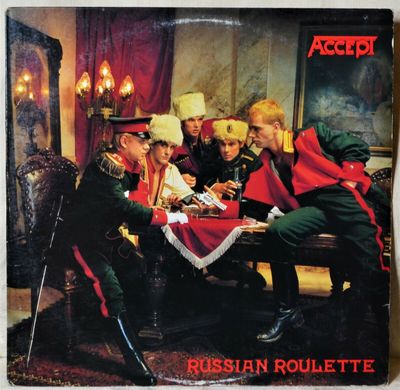 Sold Date: December 8, 2021
Start Date: October 19, 2021
Final Price: $24.95 (USD)
Seller Feedback: 20581
Buyer Feedback: 0

All LP's after first one ship free to U.S. buyers! To get combined discount, add all items to shopping cart BEFORE paying. Foreign shipping determined by weight. Subscribe to my store emails if you'd like to be notified of sales and new listings. Fast shipping!
Please see detailed description above, and see extra picture above for flip label. Grading as follows: Near Mint=Like New or Very Close. EX=Slight Wear/Close to Near Mint. VG+=Mild Wear/Nothing Serious. VG=Noticeable Scuffs and/or Scratches but Still Enjoyable. The play grade is guaranteed to be as good as or better than the visual grade stated, unless I say differently.
I have forty years of experience as a record collector and dealer. I grade all records by strict standards and guarantee that every item is exactly as I state. I always include any minor defects in the description, rather than leaving you to be disappointed later. Please check out my eBay store for lots more quality inventory! If you sign up for my store emails, you'll get notified whenever I list new items or am having sales. Thanks for your business!
Note: Descriptive phrasings (beyond actual titles and standard condition terminology), eBay store and RetroHeaven names and logos, and all photographs are copyrighted to Suzie's Record Room and may not be duplicated.