Jimi Hendrix Axis Bold As Love UHQR Mono + Stereo LOW #473 & #396 Sealed New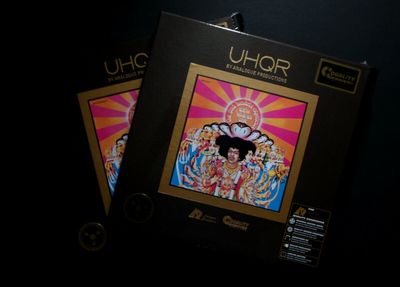 Sold Date: December 1, 2019
Start Date: November 17, 2019
Final Price: $1,100.00 (CAD)
Seller Feedback: 1368
Buyer Feedback: 7088

Released by Analogue Productions in April 2019 and now regarded as the definitive version of this classic 1967 Jimi Hendrix release.  Simply put, the audio from these pressings completely blow away ALL  the other versions that are out there.
On offer.... Both the Stereo AND Mono UHQR releases. The Stereo release was limited to 5,000 pressings and the Mono counterpart limited to only 1,500.  Both are completely sold out.   
Condition: Brand New/Factory Sealed.   
Stereo Limited Edition Number: #473 Mono Limited Edition Number: #396
I will always combine shipping to save you money.  
Delivery/Shipment option will include tracking with signature upon receipt.  
International buyers....please contact me for shipping rates and delivery options. 
Have a look at my seller feedback and purchase with confidence as I have over 35 years of experience in selling vintage and audiophile pressings.
N.B.  Due to their scarcity, value, and investment potential, returns for these 2 highly prized box sets will not be accepted.  Buyer presumably knows (especially in this case) what he or she is buying.