ID5859z - J.J. Cale - Grasshopper - SRM-1-4038 - vinyl LP - us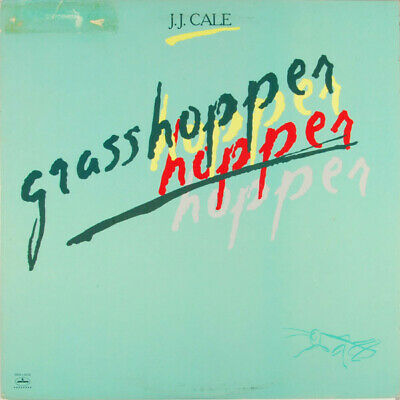 Sold Date: January 16, 2021
Start Date: December 26, 2020
Final Price: $46.50 (USD)
Seller Feedback: 269
Buyer Feedback: 23

About this Item
The eBay subject title can sometimes cut off important information regarding item listing details. Below is a more detailed summary of this specific item for sale:

The item format is a vinyl LP
The Artist Name is J.J. Cale
The Title is Grasshopper

Condition Used
The Media Condition is Near Mint

This disk is a nearly perfect. It may have been been played only a few times. It should play perfectly,
The Sleeve Condition is Very Good Plus
The sleeve may have light wear on the edges or minor sleeve splits, it may have very light visible circle wear or light wear and some minor creasing. It could have, label wear, sellotape, stickers, writing, or other minor visible issues.
Other Comments
1st US issue on MERCURY with A-1/A-1 matrices, HRM-etched deadwax stiff and sturdy cover with some ring/rub spots along the edges in the front, difficult to find without cuts, LP is just a notch under full M-, graded EX, has very few lighter sleeve marks, lyric inner included but with some tape yellowing along mid seams 17773 Media Condition-Near Mint. Sleeve Condition-Very Good Plus.
Because we have over 2million items for sale, we have to use stock images, not actual images of the items for sale. Unless explicitly mentioned in this listing, the purchase of this specific item is made with the understanding that the  image is a stock image and not the actual item for sale. For example: some of our stock images include stickers,  labels, price tags, hyper stickers, obi's, promotional messages, and or writing on the sleeve or disk label.
Sometimes the stock images show a coloured or picture disk. Unless explicitly mentioned in this listing, any purchase is made with the understanding that we have not made any commitment regarding the disk having a colour or picture, the disk in the image may be different to the stock image on this listing.
When possible we will add track listing details of the items we are selling to help buyers know what is included on the item for sale. The track listings are provided automatically  from our central master database and can sometimes be wrong.
Sometimes we sell multi-disk records, such as with 2 or 3 or 4 disks in one record,  and sometimes we may sell 'part of a multi-disk' album, for example we may only sell  1 of the 2 disks,  or 2 of the 3 disks only one disk may be lost.  If we sell part multi-disks we will add details clearly in the sale comments or description, however the track listings will still include the full track listings of all the items of the full listing. The full track listings does not mean we are providing the items when we have made clear it is a part multi-disk sale. 
Vinyl records are released in many editions and variations, such as standard edition, re-issue, demonstration demo, not for sale, promotional promo, special edition, limited edition, and many other editions and versions.  The record you receive could be any of these editions or variations. If you are looking for a specific edition or version please contact us to verify what we are selling.
Almost all of our 12-inch Albums will include a basic plain or printed inner sleeve to protect the record. However, unless explicitly mentioned in this listing a inner sleeve is not considered as part of this purchase. Any purchase should be made with the understanding the inner sleeve is provided in an as/is condition as a protector for the record.
If we reference a hairline, it means it is a light line/mark on the disk, hairlines are  different to a scratches. A  hairline is lighter and has less impact on the playing quality, whereas a scratch can  cause clicks, pops or  interference when  playing. 
We have over 25 warehouses, for this reason  we use our own carrier tracking numbers in the eBay tracking reference field.  If there is a delivery concern we use our tracking number to pull out the relivant proof of delivery details 
Please contact us to check and verify details of the item before purchasing if there is a very specific image, edition or variation you are looking for.
The Tracks of this item include:
1. City Girls 2:48
2. Devil In Disguise 2:02
3. One Step Ahead Of The Blues 2:22
4. You Keep Me Hangin' On 3:29
5. Downtown L.A. 2:30
6. Can't Live Here 2:16
7. Grasshopper 1:40
8. Drifters Wife 1:40
9. Don't Wait 3:09
10. A Thing Going On 2:38
11. Nobody But You 3:00
12. Mississippi River 2:03
13. Does Your Mama Like To Reggae 3:40
14. Dr. Jive 1:48
The image shown here is NOT an image of the actual item for sale. iHaveit have over 1million items for sale, for this reason we use stock images for reference purposes only, which may not be the same image representation of the item being sold. Please message me if you want to check and verify the image details.
International Shipping
iHaveit does not directly ship internationally anymore. We have experienced too many international delivery issues in the past and for this reason made a policy decision to only ship internationally via the eBay Global Shipping Programme. The prices included within this listing detail the eBay Global Shipping prices.
Location ID 5859z
iHaveit Internal Reference ID 63417571
Warehouse Reference Number 1212393723