Led Zeppelin II Lp-1969 SD8286 Robert Ludwig Hot Mix SRC Press Gatefold VG+/VG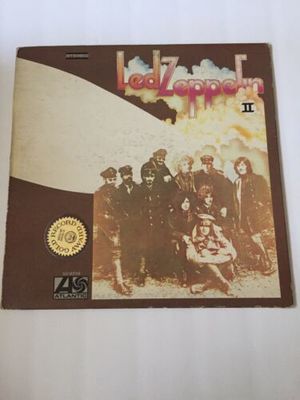 Rare! Robert Ludwig Hot Mix Specialty Records Pressing identified using the following matrix: ST - A - 691671 - B O LW [SRC logo] AT RL W
Lp is visually graded a strong VG with light surface marks in spots.  Has been test played multiple times on several turntables as a solid VG+ with minimal surface noise, mainly in the quieter spots.
Original Atlantic inner sleeve included as well as new poly liner after VPI cleaning.
Gatefold outer sleeve is a strong VG+ Gold Record sticker on front. NO seam splits, NO water damage, NO ink marks. Light surface, corner, and edge wear with the heaviest wear being on the spine and it's still not too bad.
Free Priority Shipping!
We use Goldmine's grading scale for reference as follows:
VG records have more obvious flaws than their counterparts in better shape. They lack most of the original gloss found on factory-fresh records. Groove wear is evident on sight, as are light scratches deep enough to feel with a fingernail. When played, a VG record has surface noise, and some scratches may be audible, especially in soft passages and during a song's intro and ending. But the noise will not overpower the music otherwise.
VG+ covers should have only minor wear. A VG+ cover might have some very minor seam wear or a split (less than one inch long) at the bottom, the most vulnerable location. Also, a VG+ cover may have some defacing, such as a cut-out marking. Covers with cut-out markings can never be considered Near Mint.