LAS CUCARACHAS COCKROACHES EL BAILE DEL SIETE RARE MEXICAN LATIN SKA ROCKSTEADY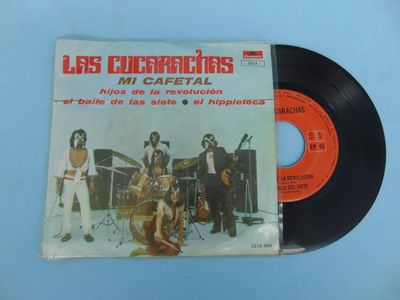 Sold Date: September 13, 2018
Start Date: August 15, 2018
Final Price: $39.00 (USD)
Seller Feedback: 624
Buyer Feedback: 1460
Audio Clips:
To hear audio clips older than 45 days you must become a member. (If you're already a member you need to log in or extend your membership.)
LAS CUCARACHAS HIJOS DE LA REVOLUCION POLYDOR (2314)  MEXICO 1973

CONDITION: Vinyl plays all without jumps or repeats from beginning to end, visually shows good gloss with little surface thin marks around, not deep lines, not loud or bad noises, just slight and music still strong and louder. Playgrade yourself and listen real audio in the player below. 
PICTURE SLEEVE With some wear as shown in pictures like some creases by handling, picture sleeve comes inside a plastic sleeve. Please use zoom picture for a better description.

Please Listen the real vinyl audio in the player below. What you hear is what you get...
(may take some seconds to upload)
Powered by eCommercePlayer.com
Some mobile phones doesn't open/play the music player, if you cant see it use your PC or Laptop.
If you can't see here the Music Player to check vinyl audio, contact me and I'll send a MP3 .
--SHIPPING--
-Buy after checking the following postages.
-Shipping Registered with tracking number.
(2 to 7 weeks approx.)
-USA, Canada and Central America:
 $10.00  
-Europe and South America:
 $12.00  
Rest of the World (Wait for my invoice).
 $16.00  
- Additional item $6.00
*Please be noted that the number of days till the arrival will vary upon your location, customs and your local postal service, Shipping Time marked here is the time it takes to reach your country.

If your country is on the exclusion list for shipping, contact me.
Payment must be received within 5 days.
-Please see pictures for a more precise description.
-Buy with confidence, item is guaranteed, returns accepted. -More Records and collectibles in my items for sale.
Thanks for Looking!! OK_COLLECT