The Smiths COMPLETE, All 8 Albums, Vinyl Box Set, Remastered, Booklet & Poster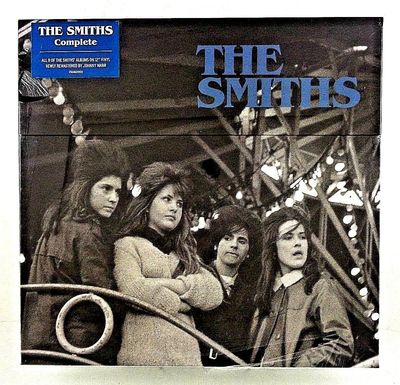 Sold Date: March 14, 2019
Start Date: February 24, 2019
Final Price: $478.98 (USD)
Seller Feedback: 1899
Buyer Feedback: 6

Selected titles from the private collection of a music business veteran are now being made available for the first time. Titles offered by this Seller are one-owner and came directly from the pressing plant, record company warehouse, other label reps or record store unless otherwise noted. 
Grading is based on visual inspection.

This box set includes all 8 of The Smiths' albums. There are a total of 11 vinyl records. This import is the UK/Europe edition from Rhino Records UK. It is a Limited Edition (10,000 worldwide) that is long out-of-print. It is in Factory Sealed Shrink Wrap. The eight albums have been remastered for this release and pressed on 180g vinyl. Includes a 12" booklet with expanded liner notes and a 36" x 24" poster of the cover artwork.
The records are housed in a hard board flip-top box. This is a one-owner that the Seller got new from Rhino Records in 2011. It has been in storage for 7 years. Tracklist The SmithsA1A2A3A4A5B1B2B3B4B5Meat Is MurderC1C2C3C4C5D1D2D3D4The Queen Is DeadE1E2E3E4E5F1F2F3F4F5Strangeways, Here We ComeG1G2G3G4G5H1H2H3H4H5RankI1I2I3I4J1J2J3J4K1K2K3L1L2L3Hatful Of HollowM1M2M3M4M5M6M7M8N1N2N3N4N5N6N7N8The World Won't ListenO1O2O3O4O5P1P2P3P4Q1Q2Q3Q4R1R2R3R4R5Louder Than BombsS1S2S3S4S5S6T1T2T3T4T5T6U1U2U3U4U5U6V1V2V3V4V5V6 Companies, etc. Phonographic Copyright (p) –  Copyright (c) –  Record Company –  Credits Remastered By –  Notes Includes a 12" booklet with expanded liner notes and a 36" x 24" poster of the cover artwork. Barcode and Other Identifiers Barcode: 825646659081 Label Code: LC02828