SAX 2451 - 2453 B/S ED1 BEETHOVEN - FIDELIO 3LP BOX, Philharmonia, Klemperer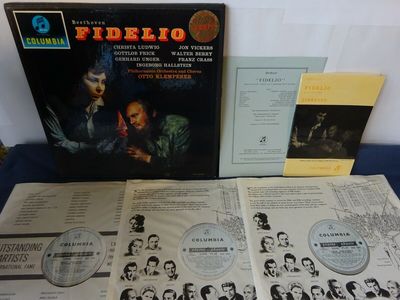 Sold Date: March 17, 2020
Start Date: March 10, 2020
Final Price: £103.00 (GBP)
Bid Count: 6
Seller Feedback: 1763
Buyer Feedback: 82

Item Detail:
Label / Catalogue No: Columbia SAX 2451 - 2453
No of LP's: 3
Sound Format: Stereo
Composer / Work: Beethoven - Fidelio                                                         Artists: Philharmonia Orchestra & Chorus, Otto Klemperer
Label Details: Blue / Silver ED1
Pressing: English

Condition:
Box: EX+ (light bottom right corner wear (see photos))
Vinyl: EX+
Additional Information: Some delamination to front cover of one booklet

I have a large number of other Classical LP's / Box Sets for sale. 
Please see my other items.
I will always combine postage for multiple items, please contact me if you need a quote. 
Free returns if not completely satisfied with your purchase.

Item will be shipped in specialist protective LP packaging.
Please view the detailed photos accompanying this listing.
Please feel free to ask any questions.