Queen " Bohemian Rhapsody / I'm In Love with My Car" Elektra 45 Record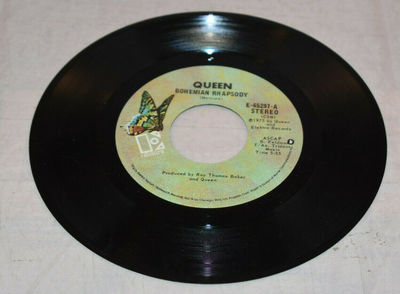 Sold Date: February 23, 2022
Start Date: March 4, 2021
Final Price: $19.99 (USD)
Seller Feedback: 3984
Buyer Feedback: 0

Queen " Bohemian Rhapsody / I'm In Love with My Car" Elektra 45 Record


    FACTS ABOUT AUCTION AND SELLER:
1) I have a near perfect feedback score with over 10 years of ebay selling experience. I take pride in providing excellent guest service and communication. If you have any questions or concerns feel free to email me and I will respond asap. 
2) Shipping for this item will be $3.99 for the lower 48 U.S States, $6.00 for Alaska/Hawaii.  International shipping is going to be $24.00. If you are a serious international buyer and you think the shipping is too high, please email me. I will look up the cost and reply to you asap.  I will ship out the item no later than 3 business days after I received payment.

3) International sales will be shipped, fully insured, standard Shipping. Customs declarations will state actual value. Any VAT or customs duties, are the responsibility of the buyer. We will not ship to Mexico, Lithuania, Italy or any other country we cannot get postal insurance.
4) I only take paypal as a form of payment, good luck and happy bidding!