"Weird Al" Yankovic ‎– Squeeze Box: The Complete Works Vinyl LP Box Set Complete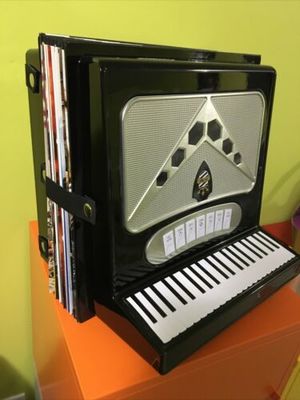 Sold Date: April 6, 2021
Start Date: March 23, 2021
Final Price: $900.00 (USD)
Seller Feedback: 1566
Buyer Feedback: 0

Complete set. I listened to maybe 5 of these albums once and put them away. Most are unplayed. Condition ranges from near mint to mint because, again, most are unplayed. The book i thumbed through once but never actually read it. The squeeze box accordion case is in great shape as well. See photos
Comes with all the albums, book, and accordion case. I will carefully package and ship properly using original shipping box. So formed styrofoam will keep everything snug in the box
Below is the description, you are getting the vinyl LP version NOT cd version. If it mentions cd, it's just because below is the factory description of the box set
Description
The ultimate tribute to one of the most prolific musical careers of the last four decades, Squeeze Box features all 14 of Weird Al s studio albums remastered on 150-gram vinyl spanning from his debut album Weird Al Yankovic (1983) to Mandatory Fun (2014). Mandatory Fun was not only the first comedy album in history to debut at #1 on the Billboard chart, but also the first to even reach that lofty position in over 50 years. Altogether, the albums included in Squeeze Box have earned multiple Grammy awards, as well as dozens of gold and platinum records in the U.S., Canada and Australia.
Six of these albums will make their debut on vinyl as part of Squeeze Box. Each has been newly remastered by Grammy Award-winning engineer Mark Wilder and personally approved by Yankovic. An Al-curated 15th bonus disc, Medium Rarities, features specially selected non-album tracks from across his remarkable career.
Squeeze Box comes in a unique package worthy of Weird Al's inimitable style: an amazing replica of his signature accordion, with each album stored in its bellows. An accompanying 100-page book will feature a trove of rare and unseen photos and memorabilia.
Track Listing:
ALBUMS
"Weird Al" Yankovic (1983)
"Weird Al" Yankovic In 3-D (1984)
Dare To Be Stupid (1985)
Polka Party! (1986)
Even Worse (1988)
UHF Original Motion Picture Soundtrack and Other Stuff (1989)
Off The Deep End (1992)
Alapalooza (1993)
Bad Hair Day (1996)
Running with Scissors (1999)
Poodle Hat (2003)
Straight Outta Lynwood (2006)
Alpocalypse (2011)
Mandatory Fun (2014)
Medium Rarities (2017)
"Weird Al" Yankovic ‎– Squeeze Box: The Complete Works Vinyl LP Box Set Complete. Condition is "Used". Shipped with USPS Mail