Los Campesinos - Very Rare Heat Rash Zines (#1-5) and Vinyl (#1-4)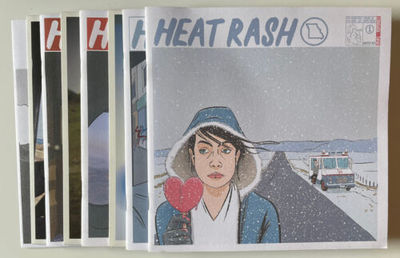 Sold Date: May 24, 2023
Start Date: May 17, 2023
Final Price: £200.00 (GBP)
Bid Count: 1
Seller Feedback: 141
Buyer Feedback: 0

Los Campesinos - Very Rare Heat Rash Zines (#1-5) and Vinyl (#1/2/3/4).
One careful owner since purchase. These were all released in 2012-2013 on a subscription and very rarely come up for sale, particularly as a set. Selling these as trying to downsize my collection.
Includes 5 zines and 4 7" records which were included with the relevant zine. All in great condition.
Info from the band at the time:
"HEAT RASH is intended to allow us to act in the moment,' they add, 'to talk about what we want to, as a platform for other mediums of 'art', and to write and release songs in a more spontaneous way. This will hopefully allow a less formal, more fluid, DIY vein of work to develop alongside, and outside, of our album releases."
Please give me a shout if any questions.