Polar Bear Club Vinyl Collection Discography 6LP + Koozie + Crewneck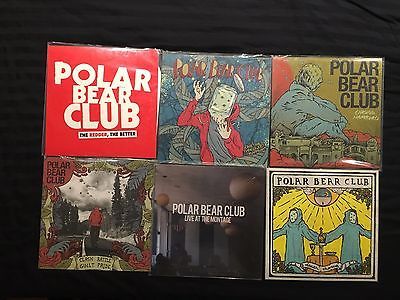 Sold Date: March 13, 2016
Start Date: March 11, 2016
Final Price: $99.99 (USD)
Seller Feedback: 151
Buyer Feedback: 7

Hello,
I am selling my (6) Polar Bear Club records. All of the outer sleeves are in very good condition with no dings that I can see. The vinyl records themselves have hardly been played. Keep in mind, while I am an avid record collector and take  extreme care when storing my records, I am not a professional grader. I am, however, very picky and know what it is like to get a bad record and these are great. Included: The Redder The Better - Gray /500 Sometimes Things Just Disappear - Clear /500 Chasing Hamburg - Orange /1000 Clash Battle Guilt Pride - Marbled Gray/Red /1,000 Live At The Montage - Red /1,000 Death Chorus - Blue/White /500 In addition, I am throwing in a sweet koozie that has been scarcely used and a Polar Bear Club medium-size crewneck hoodie is navy blue in color. It has rarely been worn and rarely been washed (only air dried). It is in excellent condition and still feels new on the inside.
I'll be shipping in a large vinyl box via USPS Media Mail for free!
No returns on these. Free shipping. U.S. buyers only please.
Thanks for looking!