MICHI SARMIENTO Y SU COMBO CUM CUMBELE/HONG KONG FUENTES RARE 45RPM RECORDS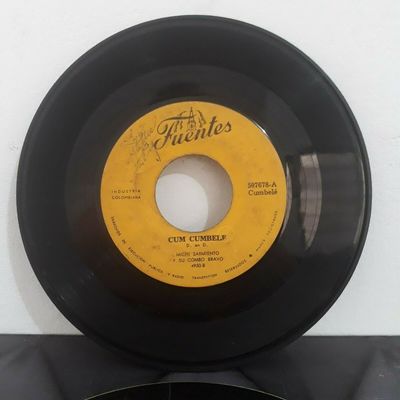 Sold Date: July 14, 2019
Start Date: July 7, 2019
Final Price: $16.50 (USD)
Bid Count: 2
Seller Feedback: 112
Buyer Feedback: 2036

LOS ARTICULOS ESTAN EN COLOMBIA, EL ENVIO ES POR LA  EMPRESA NACIONAL 472 EN CONJUNTO CON USPS, LEER ATENTAMENTE LAS POLITICAS DE ENVIO ANTES DE OFERTAR!
EL ENVIO A LOS EEUU NO CUESTA 4$, OFERTAR GENTE SERIA Y HONESTA ABSTENERSE TIMADORES!
NO NOS HACEMOS RESPONSABLES POR COSTOS DE ADUANA LOCALES!
PUJAR SOLO SI ESTAN SEGUROS!
NO HAGAN PERDER EL TIEMPO Y OPORTUNIDAD A LOS OTROS PUJADORES
POR FAVOR RECUERDE QUE DEBE DEJAR LA CALIFICACION Y POR FAVOR, RESOLVER CUALQUIER PROBLEMA ANTES DE DEJAR UNA CALIFICACION NEUTRAL O NEGATIVA O DE UNO A DOS ESTRELLAS .SI NO ESTA SATISFECHO, ENVIEME UN CORREO ELECTRONICO PARA RESOLVER CUALQUIER PROBLEMA.
1-4 SENCILLO: 20$
5-8 SENCILLO: 25$
SOLO EEUU Y PUERTO RICO!
1-4 SENCILLO: 25$
5-8 SENCILLO: 30$
SUR AMERICA Y CENTRO AMERICA!!
1-4 SENCILLO: 30$
5-8 SENCILLO: 35$
EUROPA Y ASIA
THE ARTICLES ARE IN COLOMBIA, THE SHIPPING IS BY THE NATIONAL COMPANY 472 IN CONJUNCTION WITH USPS, CAREFULLY READ THE SHIPPING POLICIES BEFORE OFFERING!
SHIPPING TO THE US DOES NOT COST $ 4, OFFERING PEOPLE SERIOUS AND HONEST ABSTINERS TIMERS!
WE ARE NOT RESPONSIBLE FOR LOCAL CUSTOMS COSTS!
BID ONLY IF YOU ARE SAFE!
DO NOT MISS THE TIME AND OPPORTUNITY TO THE OTHER BIDDERS
PLEASE REMEMBER THAT YOU MUST LEAVE THE QUALIFICATION AND PLEASE RESOLVE ANY PROBLEMS BEFORE LEAVING A NEUTRAL OR NEGATIVE QUALIFICATION OR FROM ONE TO TWO STARS. IF YOU ARE NOT SATISFIED, SEND ME AN EMAIL TO RESOLVE ANY PROBLEM.
1-4 SINGLE: 20 $
5-8 SINGLE: 25 $
ONLY US AND PUERTO RICO!
1-4 SINGLE: 25 $
5-8 SINGLE: 30 $
SOUTH AMERICA AND CENTRAL AMERICA!!
1-4 SINGLE: 30$
5-8 SINGLE: 35$
EUROPA Y ASIA!!!