RADICAL FACE The Family Tree 4x LP NEW VINYL BOX SET Nettwerk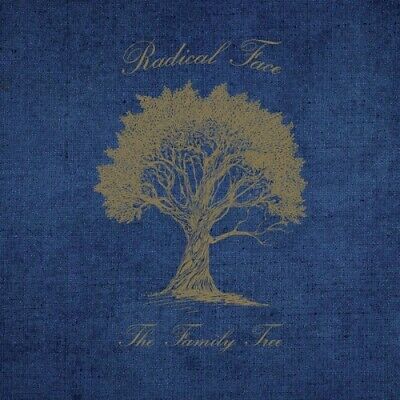 Sold Date: November 24, 2021
Start Date: November 16, 2021
Final Price: $1,099.99 (USD)
Seller Feedback: 44636
Buyer Feedback: 0

Store Categories RADICAL FACE The Family Tree / 4x LP NEW VINYL BOX SET / Nettwerk 2016
wow, you never know what you're going to find in the depths… mint & sealed!!

More than 10 years ago, in a shed behind his mother's house, Ben Cooper AKA Radical Face, started an unprecedented musical journey. The story of a fictitious, and sometimes otherworldly 19th century family was brought to life in a three-part album series called The Family Tree. Certain instrumentations and melodies were used to represent various "family members" and each album was recorded using only the instrumentation available during the era represented. Throughout the writing and recording process of each album in the trilogy, there were certain tracks that didn't quite fit the album. These came to be known as "the bastards." Historically, "the bastards" have been given away to fans in front of each album to elicit excitement for the impending album release. As the trilogy is now finished, so are "the bastards". The vinyl from the three Family Tree albums has been combined with the vinyl for The Bastards (not available anywhere else) and a 65 page color book of unreleased art to comprise one complete, stand-alone piece available to Radical Face fans for the first time at record stores. Record Store Day Exclusive Limited to 300 Copies.
The Family Tree: The Roots
A1 Names
A2 A Pound Of Flesh
A3 Family Portrait
A4 Black Eyes
A5 Severus And Stone
A6 The Moon Is Down
B1 Ghost Towns
B2 Kin
B3 The Dead Waltz
B4 Always Gold
B5 Mountains
The Family Tree: The Branches
C1 Gray Skies
C2 Holy Branches
C3 The Mute
C4 Reminders
C5 Summer Skeletons
C6 The Crooked Kind
D1 Chains
D2 Letters Home
D3 From The Mouth Of An Injured Head
D4 Southern Snow
D5 The Gilded Hand
D6 We All Go The Same
The Family Tree: The Leaves
E1 Secrets (Cellar Door)
E2 Rivers In The Dust
E3 Everything Costs
E4 Midnight
E5 The Ship In Port
F1 Photograph
F2 Third Family Portrait
F3 The Road To Nowhere
F4 Old Gemini
F5 Bad Blood
The Bastards
G1 Sisters
G2 Baptisms
G3 Servants And Kings
G4 All Is Well (It's Only Blood)
G5 All Is Well (Goodbye, Goodbye)
G6 Second Family Portrait
H1 Letters Home (Aftermath)
H2 We're On Our Way
H3 West
H4 Small Hands
H5 Nightclothes

Track List Customer satisfaction guaranteed! Over 40K positive feedback! 99.9% positive feedback rating! Making Ebay buyers happy since 2005!
Multiple item shipping discounts available
Purchase your items but request a total before you pay. Visit earcandymusic.biz for 15% lower prices. Come visit us at our store in Missoula, MT.