Rare solid centre Maytones UK Blue Cat 45 Loving Reggae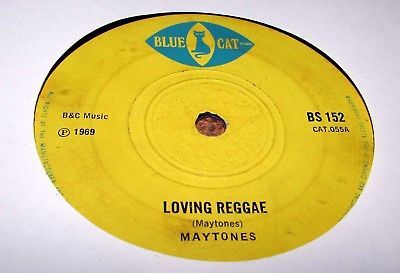 Sold Date: April 15, 2018
Start Date: April 10, 2018
Final Price: £92.66 (GBP)
Bid Count: 13
Seller Feedback: 8053
Buyer Feedback: 0
Audio Clips:
To hear audio clips older than 45 days you must become a member. (If you're already a member you need to log in or extend your membership.)
Loving Reggae by The Maytones b/w Musical beat by Roy Samuel on 1969 UK Blue Cat BS 152 in VG condition.
  It has surface scuffs and marks and plays superbly both sides.
This has a rare solid centre opposed to the normal four prong centre.
Sound Clip.
CLICK ON PLAYER TO HEAR A FULL SOUNDCLIP TAKEN FROM BOTH SIDES OF THE ACTUAL RECORD.
BUYER TO PAY POSTAGE AND PACKING.
£1.50 UK
£4.00 EUROPE
£5.00 USA & WORLDWIDE.
I AM VERY WILLING TO COMBINE POSTAGE AND PACKAGING DISCOUNT CHARGES ON MULTIPLE PURCHASES.