Placebo A Place For Us To Dream Ultra Rare UK Signed Pink 4LP Boxset + Bonus 7"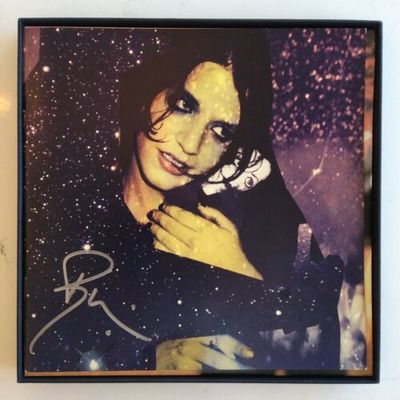 Sold Date: February 13, 2020
Start Date: January 4, 2020
Final Price: £275.00 (GBP)
Seller Feedback: 35
Buyer Feedback: 43

Placebo - A Place For Us To Dream Ultra Rare Signed Pink 4LP Vinyl Version Including Copy Of 7" AA side single of 'Jesus' Son / Life's What You Make It!
New & Near Mint (NM)!!
Label: Elevator Lady
Catalogue number: APFUTDBSX
Format: 4 x vinyl LP, Compilation, Limited Edition, Pink, Signed, including bonus Jesus Son 7"
Country: UK
Release: 7th October 2016
Genre: Pop Rock
Style: Indie Pop
Product description
4 x 180g heavyweight limited edition pink vinyl housed in a special hard case box.
24-page book with never-before-seen photos curated by Brian Molko & Stefan Olsdal, from throughout the band's 20-year career.  
Includes a download card for high-res WAV versions of the tracks.
This boxset is one of only 450 copies where the booklets are signed by Brian Molko and Stefan Olsdal. It is also one of only 25 random copies which included a copy of the 7" AA side single of 'Jesus' Son / Life's What You Make It! Making it an ultra rare copy of this already great boxset!
Boxset is new and vinyl unplayed. Only opened to check all of the above limited/rare contents were correct.
Tracklist
Vinyl 1
A1. Pure Morning (Radio Edit)
A2. Jesus' Son (Radio Edit)
A3. Come Home
A4. Every You Every Me (Single Version)
B1. Too Many Friends
B2. Nancy Boy (Radio Edit)
B3. 36 Degrees (Version 2016)
B4. Taste In Men (Radio Edit)
B5. The Bitter End
Vinyl 2
A1. Without You I'm Nothing (feat. David Bowie)
A2. English Summer Rain (Single Verison)
A3. Breathe Underwater (Slow)
A4. Soulmates
B1. Meds (feat. Alison Mosshart)
B2. Bright Lights (Single Version)
B3. Song To Say Goodbye (Radio Edit)
B4. Infra-Red
B5. Running Up That Hill
Vinyl 3
A1. B3 (Radio Edit)
A2. For What It's Worth
A3. Teenage Angst
A4. You Don't Care About Us (Radio Edit)
A5. Ashtray Heart
B1. Broken Promise (feat. Michael Stipe)
B2. Slave To The Wage (Radio Edit)
B3. Bruise Pristine (Radio Edit)
B4. This Picture
B5. Protégé Moi
Vinyl 4
A1. Because I Want You (Redux Version)
A2. Black-Eyed
A3. Lazarus
A4. I Know (Version 2008)
B1. A Million Little Pieces (Radio Edit)
B2. Special Needs (Radio Edit)
B3. Special K
B4. Loud Like Love
Bonus 7"
A. Jesus Son
AA. Life's What You Make It
Will ship anywhere in the world.