Blues R&B Promo 45/ Howlin Wolf "Hidden Charms" Chess Hear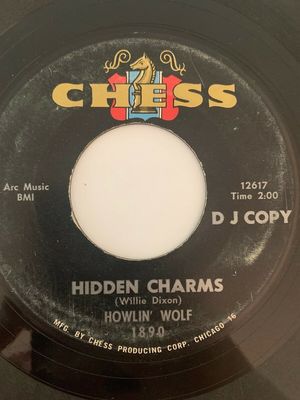 Howlin Wolf on Chess 1890.        "Hidden Charms"        and        "Tail Dragger".        The vinyl is in a visual VG condition.      The labels are clean.    Please click below to hear actual sound clip of record.                
Sound Clip.
CASH FOR RECORDS
!!!Top Cash Paid For Quality Collections!!!
POSTAGE AND SHIPPING
~~All records are securely packaged in heavy cardboard shipper box, with cardboard for EXTRA protection!~~
GRADING
***We use GOLDMINE grading scale for our records (VERY TRUSTWORTHY)***
SHIPPING ORDERS
{{{Combined shipping on ALL orders!}}}
INTERNATIONAL
 ~~$1.00 for each additional 45~~
UNITED STATES
*** USPS$4.00 First Class for up to four 45's***
RETURN/REFUND POLICY
{{Get money back guaranteed within 30 days of purchase}}