Beatles, Let It Be BOX SET: * RED APPLE * BOOK * BOTH INNER TRAYS * UK 1st Press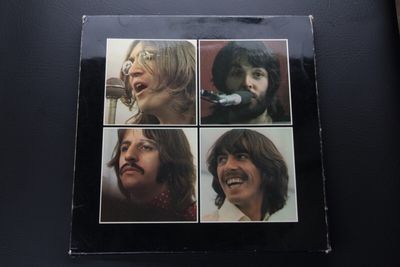 Sold Date: September 21, 2022
Start Date: September 11, 2022
Final Price: £390.00 (GBP)
Bid Count: 22
Seller Feedback: 1412
Buyer Feedback: 5220

Complete and original STEREO UK 1st pressing of The Beatles final studio album, Let it Be. 
This extremely rare UK BOX SET is complete with 1st press vinyl with 2U/2U matrix number, 1st Press sleeve with red apple logo to rear, 1st press Get Back book and box complete with both inner trays.
Serial number: PCS 7096
Matrix number: YEX 773 - 2U / YEX 774 - 2U 
Stamper codes: 1 GR / 3 OD 
Vinyl Weight: 140g 

Condition:
Vinyl: VERY GOOD +

Visually the vinyl has a deep gloss finish and clean surface. Only light surface marks are present. VERY GOOD +. The labels are bright and clean. EXCELLENT. The audio is superb, quiet lead-ins to both sides and in between tracks. There is great channel separation, clear vocals and punchy bass. There are no obtrusive pops, skips or jumps. VERY GOOD +.
BOX & BOOK: VERY GOOD +
The outer box is very clean with a gloss finish and bright colour. The inner tray is in great condition. The book support has a couple of small tears. 
VERY GOOD+
. The book looks new. All pages are attached - the corners are square and the spine is readable and without wear. 
NEAR MINT. 
Sleeve: VERY GOOD +
The sleeve looks great. The front and rear retain a glossy finish with bright colours. There is no sign of ring wear, fully readable spine without wear, top and bottom edge without wear, and corners with very mild wear. 
Inner Sleeve: EXCELLENT
The original inner sleeve looks great. It is without staining or discolouration and shows only minimal creasing.  Also included in the sale is an 
audiophile quality
, anti-static inner sleeve to help protect and preserve the fantastic record. 
This record will be sent via an insured courier in a padded vinyl mailer.
Please see my other listings. I am selling some rarities from my personal collection. 
People with less than 10 feedback please contact me prior to bidding or your bid will be removed.