Beatles Abbey Road * MISALIGNED APPLE * NO HER MAJESTY * EX ! * UK 1st PRESS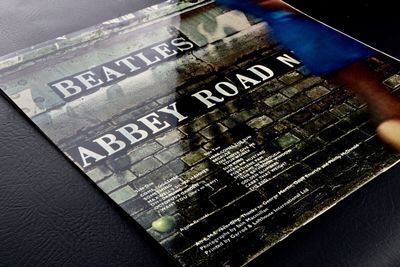 Sold Date: January 24, 2023
Start Date: January 14, 2023
Final Price: £370.00 (GBP)
Bid Count: 21
Seller Feedback: 1437
Buyer Feedback: 53

The Beatles - Abbey Road
This outstanding 'final-upgrade' copy of the Beatles' final studio album is a UK first pressing on the dark green Apple Records label. 
The vinyl has the 1st variation dark green apple labels that comes without 'Her Majesty' credit on the final song of side 2, 'The End'. 
The vinyl is housed in the original fully laminated Garrod & Lofthouse sleeve with the much sought after 'misaligned apple logo' to the rear of the sleeve. 
Also included is the original die cut black inner sleeve that was only sold with the first few copies!

Serial number: PCS 7088
Matrix number: YEX 749 - 2 / YEX 750 - 1
Stamper codes: 7 RTH / 7 RHO
Vinyl Weight: 146g 

Condition:

Vinyl: EXCELLENT 
Labels: MINT -
The labels are bright, clean and without writing. Only very light spindle marks can be seen to both sides. 
Visual: VERY GOOD +
Superb 'factory-fresh' deep-gloss playing surfaces which only show light paper scuffs in bright daylight. A single light but feel-able mark can be seen across 'Here Comes the Sun'. Underneath a halogen desk lamp a few barely visible wispy paper hairlines can be seen alongside a sparkling rainbow shine.
Sound Quality: EXCELLENT -
The audio is fantastic. This copy has clearly only been played a handful of times on good quality equipment. There is no sign of groove/play wear. There are quiet lead-ins to both sides and minimal static in between tracks. A couple of very light clicks can be heard at volume on 'Here Comes the Sun'.There is great channel separation, clear vocals and punchy bass. You will not need to look for another copy of this fantastic record.
Sleeve: EXCELLENT
This 1st class sleeve looks great. Both sides retain a glossy finish with bright colours. A couple of short laminate ripples (usually present from the factory) can be seen. All four corners are crisp and sharp with just subtle softening to two. The opening and top and bottom edges along with the 'pinched' spine are without any wear.
Inner Sleeve: EXCELLENT -
The original die-cut black inner sleeve is in great condition. It shows one small tear to the centre and one or two to the opening edge. There is a crease to one corner.  The vinyl is housed inside an audiophile quality, anti-static inner sleeve to help protect and preserve the record and inner sleeve. 

The record will be sent via an insured courier in a padded vinyl mailer. Non-EU international bidders please get in touch for an accurate postage cost if you do not want to ship with the GSP.
Please see my other listings. I am selling some rarities from my personal collection. 
Bidders with less than ten feedback please get in touch before bidding otherwise your bid will be removed.