JIMI HENDRIX strong VG+ reprise Pitman press 45 IF 6 WAS 9 b/w STONE FREE CT1742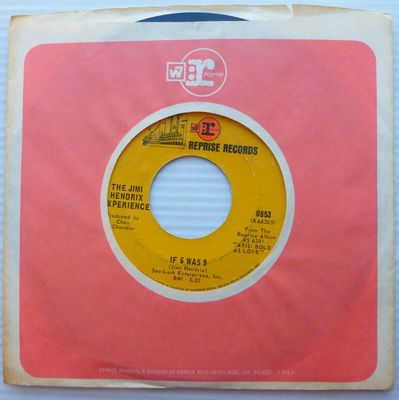 Sold Date: February 16, 2019
Start Date: January 16, 2019
Final Price: $17.00 (USD)
Seller Feedback: 51853
Buyer Feedback: 14

JIMI HENDRIX reprise Pitman pressing plant (this is a "styrene" pressing)
IF 6 WAS 9 b/w STONE FREE the vinyl is VISUALLY Graded strong vg+
plays without any obvious surface noise, has Machine Stamped matrix numbers in the "dead-wax" runout grooves: 1B suffix b/w 1A suffix, labels have very minor wear, but no writing or damage.
Please click  for our "
BEAT
", 
PSYCHEDELIC, 
&
Garage Rock
store category; Please click to see all the great 
Rock
music
in all styles, genres and formats
in
our .
We gladly combine shipping to $ave you money on postage! 
We buy old records or record collections,
especially by non-commercial,
non-"hitmaking" artists.
Please contact us with any questions
via
the eBay messaging system.