Abdul Hannan The Third World AH1 Signed Ultra Rare SPIRITUAL Jazz David S Ware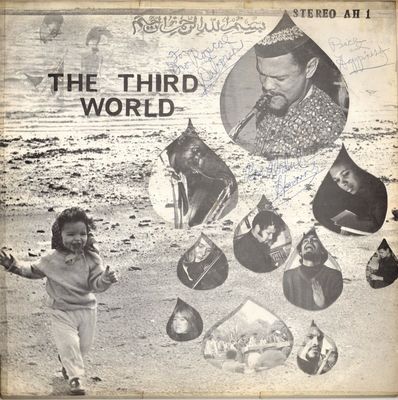 Sold Date: February 10, 2019
Start Date: February 3, 2019
Final Price: $1,624.99 (USD)
Bid Count: 11
Seller Feedback: 1321
Buyer Feedback: 1064
Audio Clips:
To hear audio clips older than 45 days you must become a member. (If you're already a member you need to log in or extend your membership.)
Abdul Hannan         The Third World       stereo    AH 1 Extremely Rare Free Jazz LP Signed by Abdul Hannan  David S Ware's first recording      

Abdul Hannan (as)  David Ware (ts), Rollins Ross (p), Anne Brudevold (vln), Chris Amburger (b), Arnold Clapman (cga) and a steel band   Recorded 1971 
 The record looks and plays VG++.  Record plays quietly and cleanly, especially for an artist owned label pressing.  A few superficial scuffs on Side 1 and  2 light ticks at very beginning. Side 2 looks and plays clean.  No scratches on either side.  Some spindle marks on each label.   Grooves are bright, glossy and  do not show wear or damage. 
LISTEN FOR YOURSELF TO THE SOUND CLIP BELOW.             
 The cover is VG+.  
    The front cover has light to moderate wear with hint of ring wear and some light staining at the pocket. There's is a dedication and autograph written in pen, apparently by Abdul Hannan.  I cannot guarantee that it is authentic, but have no reason to doubt it.  Both seams and the spine are taped, but it looks like this was a protective measure as no splits are evident. The corners at the pocket are dented and show some cracking damage to the cover slick.  There are wear spots at the corners.  The back cover has moderate wear, some fading and a small red stain. 
Black lines that might be visible at bottom left and top right in pictures are due to photo cropping and not on record.

I WILL NOT END AUCTIONS EARLY.  PLEASE DO NOT ASK.

 My highest grade is M- and I rarely grade 50s or 60s records M-. Records are graded visually using the Goldmine system. M-, VG++, VG+, VG, VG- etc. I play grade any potential problem areas.  I attempt to grade conservatively, listing all significant flaws. You will be satisfied.  No hassles.
Shipping One Record---US  Media Mail--$4   Priority--$12
CANADA: 1 LP = $17 / 2LPs = $20  
WORLDWIDE (everywhere except Canada): $1 LP = $24 / 2LPs = $26 / 3LPs = $35                                   
I will combine shipping, but WAIT FOR INVOICE, PLEASE.