Single - Kings Of Nuthin' - Get Wrecked With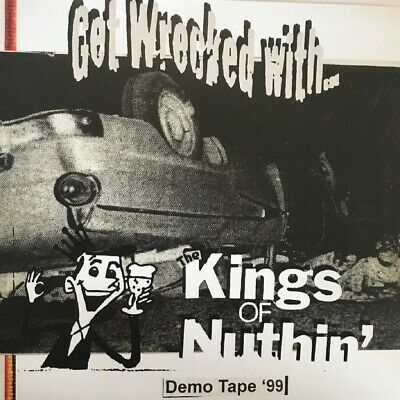 Sold Date: October 24, 2021
Start Date: April 24, 2020
Final Price: €13.90 (EUR)
Seller Feedback: 18553
Buyer Feedback: 0

Single - Kings Of Nuthin' - Get Wrecked With
      BLACK vinyl + printed insert! 33 rpm
The Demo Tape '99 
4 early demo tracks by Boston's THE KINGS OF NUTHIN', one of the very best bands of the last 20 years!
These tracks were only released on tape in the past! Get this little vinyl beauty and remember the times and the band when they were around and setting the world on fire!
These men were the real KINGS!
Tracklist: 
Side A
1. Let It Burn
2. Boston Bound
Side B
3. Had Enough
4. Get Busy Dyin'
SI_CLEP 64374        
Wir haben auch noch viele andere Produkte und CDs bei uns im Shop- schaut doch mal rein.
Falls ihr eine bestimmte CD oder ein bestimmtes Produkt sucht und sie nicht findet, fragt uns, wir sind Experten für Rock´n´Roll. Rockabilly, Country, Western, Hillbilly, ....
3...2...1... deins?!
Wir räumen unser Lager auf. Hierbei finden wir viele rare Einzelstücke und Restposten, die wir jetzt bei E-Bay anbieten. Wir verkaufen Artikel in den Bereichen ROCKABILLY, PSYCHOBILLY, ROCK'n'ROLL uvm... Wir bieten etliche Artikel exclusiv nur in unserem Ebay-SHOP an, also nicht in den Ebay-Auktionen!
Schaut in unseren Ebay- Shop!!
ansehen