BEATLES 45. Nicaragua. WHY DON'T WE DO IT IN THE ROAD. OBLADI. Odeon 1968. VG+.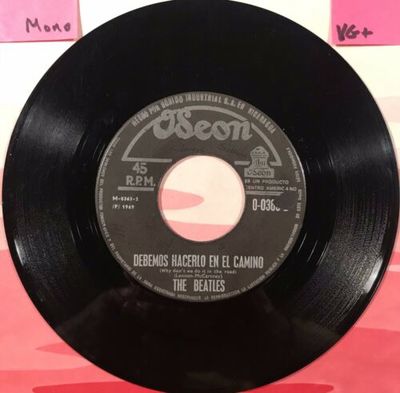 Sold Date: August 17, 2021
Start Date: August 14, 2021
Final Price: $45.00 (USD)
Bid Count: 1
Seller Feedback: 3044
Buyer Feedback: 0

Another Beatles super-rarity from NICARAGUA. A Beatles song only available from ONE country!! A 1968 original Odeon Black label issue. Goldmine condition is VG+. Vinyl is mostly shiny, some scuffs, plays thru great, some noise but this record is real Hard to Find, in fact it's Super-Rare, only from one country Worldwide!! Labels are nice but B Side has a small tear, and bothe sides have a name written in ink, nearly unnoticeable. Comes in standard White sleeve. These old 60s singles were made tough to hold up to high humidity and lots of wear and tear. This is a super rare 45 Single of the Beatles song WHY DON'T WE DO IT IN THE ROAD backed with OBLADI OBLADA. The A side, OBLADI, is common, not a Hard to Find Beatles Single on 45. But, the B Side WHY DON'T WE DO IT IN THE ROAD is the true Super-rarity here, only available from ONE country worldwide on 45 single, and it's Number 29 on my HTF list, seen on eBay about twice a year! Interestingly, both are Mono here. Stereo 45s did not become common until 1969. Of course, no Stereo Version of WHY DON'T WE DO IT IN THE ROAD on 45 single worldwide! Obladi Oblada is Stereo on 45 from USA and others. If interested Request my lists of Top 100 Hard to Find Beatles Songs on 45 Singles Worldwide, Or 150 Beatles Songs in Stereo on 45 Singles Worldwide. No charge. This one comes with common White sleeve. Actual item in photos shown! All purchases ship for $5 total in US. Or Global Shipping Program available. And price reduces weekly till sold!! Best to every fan. Beatle Lew.