Black Sabbath - Sabotage - WB BS 2822 LP Vinyl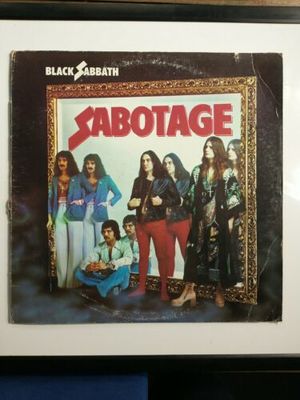 Sold Date: August 30, 2021
Start Date: August 20, 2021
Final Price: $23.99 (USD)
Seller Feedback: 1336
Buyer Feedback: 0

Please use photos provided to determine your personal and subjective visual opinion of the item's condition. If you have any issues with the item when you receive it, please message me as soon as possible.
Vinyl Records at FUNKY FUN FINDS are assessed based on universal/standard grading or rating systems to the best of our ability as amateurs. We do our best to speak for the record itself with similar attention to the original jacket/cover & replace inner dust sleeves or protective outer slips when applicable. The following descriptions can be used as a general guide: 
Near Mint (NM) Shut the front door!!! How did we find something this amazing. Breathless...speechless...pure joy. This record has been stored & protected by angel/puppy/kitten kisses. The vinyl looks glossy, crisp & has rarely seen the light of day. May have been played a few times with no marks on the vinyl with the whole package complete & original. 
Excellent (E) "Near Mint adjacent" with miniscule, faint, light marks or scuffs indicating the vinyl has been in and out of the sleeve a few times. Overall this record has been given the "white glove treatment" with respect & love.  
Very Good Plus (VG+) Ooohhhh my!!! This is pretty outstanding despite with some acceptable faults. A little rub, light inaudible mark &/or less than glossy sheen with slight, almost inaudible background crackles, but nothing significantly compromising the record visually or audibly overall.  
Very Good (VG) This record has seen a bit of life, but haven't we all? Yes, visually and audibly this record is USED with light pops and clicks, an edge split here & there, some light visible scratches &/or lackluster surface, but overall it is truly worthy of your love & looking for a good home.  
Good (G) COLD HARD TRUTH...typically "Good" means "Bad", BUT...Funky Fun Finds is passionate about promoting & protecting outstanding items/music (at times for pure nostalgia). We recommend considering the quality of this record based on its social/personal significance. While the record/cover/case may/will contain visible imperfections, appear rough/rugged &/or contain unfortunate audible snap, crackles & pops we can't imagine a world in which it didn't exist. Consider this...if we don't preserve quality music...who will!? Think of the children...won't someone think of the children?!