LP - VA - Greasy Rock And Roll Vol. 15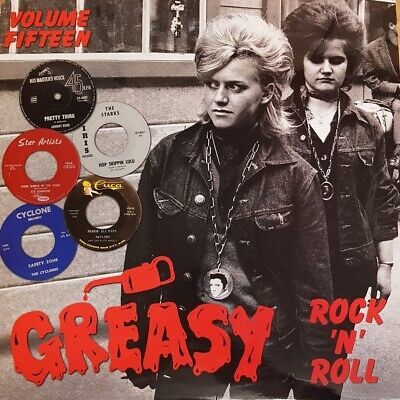 Sold Date: July 19, 2022
Start Date: October 19, 2021
Final Price: €20.90 (EUR)
Seller Feedback: 19206
Buyer Feedback: 0

LP - VA - Greasy Rock And Roll Vol. 15
      2017/Greasy) 16 tracks - The fifteenth volume of this great Rock 'n' Roll LP series is out now! As the liner notes writer says - it was a hard time getting them together .... anyway .... great stuff from the 1950s and 1960s and each single note of the songs will make you flip, flop and bop ... You find all relevant information concerning the records and the bands on the back cover (it's not the side with the two chicks ....) of this masterpiece and if you have trouble in understanding these or if you think that something is weird or not correct, please don't ask us about that, but send a letter with an international money order to the writer himself and he might be willing (depends on the amount you've sent) to answer your questions .... 
Tracklist:
1. Tears - The Chevelles 2. Safety Zone - The Cyclones 3. Hey Little Dancing Girl - Don Thomas 4. Thee Sheets In The Wind - Joe Diamond 5. Shakin' All Over - Raylene & The Blue Angels 6. Fat Man - Myron Lee 7. Hop Skippin' Lou - The Starks 8. Pretty Thing - Johnny Rebb 9. Keep A Hold Of What You've Got - The Shots 10. Messed Up Woman - The Jesters III 11. The Corrido Twist - The Venturas 12. Sitting On Top Of The World - Walt Cochran 13. Wild Little Willie - The Hesitations 14. Seven Come Eleven - Vernon Derrick 15. Pigtails Amd Blue Jeans - Leonard Carbo 16. Satan's Got You - Lenny Davis
LP_GR 015        
Wir haben auch noch viele andere Produkte und CDs bei uns im Shop- schaut doch mal rein.
Falls ihr eine bestimmte CD oder ein bestimmtes Produkt sucht und sie nicht findet, fragt uns, wir sind Experten für Rock´n´Roll. Rockabilly, Country, Western, Hillbilly, ....
3...2...1... deins?!
Wir verkaufen Artikel in den Bereichen ROCKABILLY, PSYCHOBILLY, ROCK'n'ROLL uvm... 
Schaut in unseren Ebay- Shop!!
ansehen