THE DOORS Riders on the storm & Love her madly 7" 45 rpm vinyl record RARE!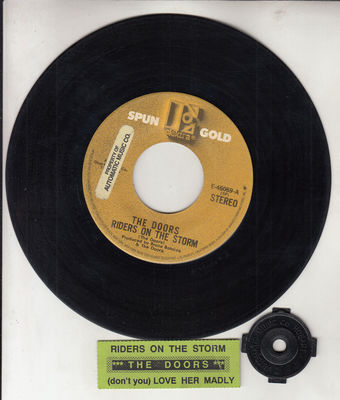 Sold Date: February 20, 2023
Start Date: December 20, 2022
Final Price: $22.99 (AUD)
Seller Feedback: 15401
Buyer Feedback: 0

RARE  !!!
THE  DOORS
"  Riders  on  the  storm  "

b/w
"  Love  her  madly  " 
♫ Don't miss this brilliant double-sided hit record for your collection! ♫
Item:
♪   RARE! Used 7 inch (7") 45 rpm vinyl record (Elektra/Spun Gold Records, USA) in VERY GOOD+ condition (has light signs of juke box scuffing but plays through beautifully; has a sticker on the 'A' side label) - refer to scan - plain paper sleeve.
♪   Can be used on any turntable/record player and in all juke boxes.
♪   This record has a large centre hole - plastic centre hole adapter/"spider" (see scan) will be provided FREE if required. 

♪   Laser-printed title strip for juke box use supplied FREE.
PAYMENT:     PAYMENT MUST BE MADE WITHIN ---- 4 ---- DAYS FROM END-OF-SALE – UNLESS   YOU ARE STILL BIDDING OR INTENDING TO BID, AND THEN YOU MUST LET ME KNOW THAT.
♫  NOTE: Some eBay sites around the world (in particular the U.S.A. eBay site), will give you a message that "This seller does not offer combined postage". That is not correct, because I do offer combined postage. If you get that message, send me a message through eBay indicating which 2 or more records you are interested in buying, and I will re-arrange the postage figures within eBay for those items for you.
 POSTAGE:    We have had special cardboard mailers made to 7 inch 45 rpm record size, exclusively for us. We do NOT use Jiffy Bags, Pizza boxes or envelopes !
                   Within Australia: 1 record: $6.00; add just $1 p&h for each extra record. If you are buying 2 or more records, please do NOT pay the eBay-generated invoice because their system will not combine items for postage discounts. Please send me an email asking for an invoice with combined postage.  
International: 1 record with TRACKED DELIVERY and up to AUS $100 INSURANCE: $35.00; add just AUS $5.00 p&h for each extra record. If your purchases total more than AUS $100, then registered or insured mail might be required - wait for an amended invoice in this case.  NOTE: We do NOT send to Central and South America, anywhere in the African continent, Greece, or Russia.
♫ We will happily combine postage on multiple orders made (over as long as 10 days). 
♫ Items can be collected from our Hobart  (Rokeby, Eastern Shore, postcode 7019) office.
 ♫ ♪ ♫ ♪ FLAMINGO RECORDS ♫ ♪♫ ♪
HOBART   TASMANIA   AUSTRALIA
♫ ♪ ♫♫ ♪ ♫♫ ♪ ♫♫ ♪ ♫♫ ♪ ♫♫ ♪ ♫♫ ♪ ♫♫ ♪ ♫♫ ♪ ♫♫ ♪