Columbia SAX 2304 - David Oistrakh - Violin Concertos - Mozart/ Prokofiev - TPO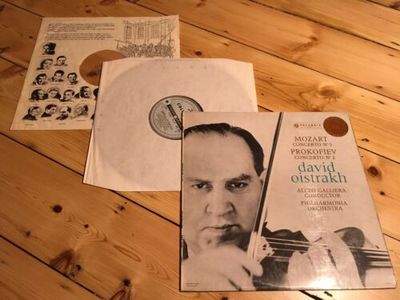 Sold Date: February 10, 2019
Start Date: February 3, 2019
Final Price: £635.00 (GBP)
Bid Count: 5
Seller Feedback: 138
Buyer Feedback: 823

Acting as an executor, I am starting to sell a record collection lovingly built up over 40 years. Please keep an eye out for further listings.
Here we have:
Columbia SAX 2304
Mozart Violin Concerto No.3 in G Major, K.216
Pokofiev Violin Concerto No.2 in G Minor, Op.63
David Oistrakh conducting The Philharmonic Orchestra
see photos for more details.
Condition:
Near Mint (NM): The highest grade for a used record. Almost no signs of being played, perhaps a spindle mark or barely noticeable light mark where record has been removed from the inner sleeve. Cover or box may have minor ring wear but no bends, creases or writing whatsoever
Postage:
UK: next day by 1pm. Royal Mail -Item sent first class, tracked, signed for £9.50
Asia/ Australasia: Sent Royal Mail - item sent tracked and/or signed for (dependent on country) but not insured for £21.85. This is the default postage cost.
For Europe: Sent via Royal Mail - item sent tracked and signed for but not insured. Postage is £12.70. I can do a new invoice for this lower postage.
For buying a second record it will be an extra £8 for Asia/Australasia postage. An extra £2.35 for buying a second record for European postage. No extra postage cost for buying a second record within the U.K.
If you require insurance please contact me after the auction so that I can arrange and confirm cost.
Packaging:
All records are packaged well using high quality cardboard LP packing cases with internal mailers and bubble wrap for protection. Record and inner sleeve are removed from the cover for posting. If you have any preference please let me know after purchase.
Happy bidding.