1-MEGA RARE-CELINE DION-L'UNIVERS A BESOIN 45 RPM-JUKEBOX ONLY-TBS-TB SC5565 NM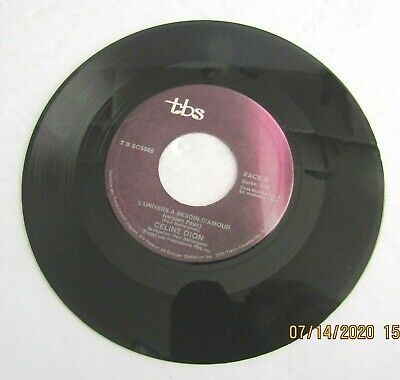 Sold Date: July 31, 2020
Start Date: July 14, 2020
Final Price: $395.00 $295.00 (USD)
Seller Feedback: 2112
Buyer Feedback: 419

CONSERVATIVE GRADING--LOW SHIPPING TO US  ........... SHIPPING WITH TRACKING---------------------- LABEL  MEGA RARE-L'UNIVERS A BESOIN D'AMOUR-CELINE DION-1986 TBS SC 5565-ORIGINAL 45 RPM 7" SIDE ONE-A FUNKY VERSION SIDE TWO-SOUL VERSION
 VINYL  NM  SPOTLESS     LABELS     NM   NO WRITING,STAMPS,CLEAN,NO SPINDLE MARKS GENERIC WHITE SLEEVE
PLEASE READ OUR CONDITIONS OF SALE BEFORE BIDDING/BUYING


                                     PLEASE NOTE:             MY EBAY STORE IS BASED IN US-EBAY.COM------WE SHIP FROM CANADA 

 




WE HAVE LOTS OF RARE RECORDS TO LIST VISUAL GRADING-CONSERVATIVE. WE USE APPROPRIATE CARDBOARD MAILER AND PADDING. THE RECORD IS TAKEN OUT OF THE SLEEVE/JACKET,(EXCEPT SEALED RECORDS)AND PACKED WITH PADDING WE SHIP FROM CANADA VIA USPS WITH TRACKING 

OUR GRADING.... MINT---PERFECT IN EVERY WAY-IT WILL BE USED ONLY ON SEALED RECORDS NEAR MINT(NM) A NEARLY PERFECT RECORD DOES NOT  SHOW OBVIOUS SIGNS OF WEAR.IT LOOKS AND PLAYS LIKE NEW.THE JACKET MAY SHOW ONLY LIGHT WEAR WITH MINOR SCUFFING.THE JACKET WILL NOT HAVE SEAM SPLITS-FOLDS-OR CUT OUT HOLES. NEAR MINT- (NM-)   THIS RECORD WON'T BE PERFECT AND MAY SHOW VERY MINIMAL SIGNS OF USE.THIS RECORD MAY HAVE BEEN PLAYED BUT WAS HANDLE WITH EXTREME CARE.THE JACKET WITH LIGHT SCUFFING-AND/OR EDGE WEAR-MINIMAL CREASING-PROMOTIONAL CUTS- OUT OR CUT CORNERS VERY GOOD+(VG+)THIS RECORD WILL SHOW LIGHT USE AND MAY HAVE SOME MILD SCUFFING AND/OR FINE SURFACES SCRATCHES-THAT MAY CREATE LIGHT SURFACE NOISE.THE JACKET MAY HAVE LIGHT TO MODERATE SCUFFING-EDGE-WEAR-SLIGHT RING WEAR-LIGHTLY TURNED-UP CORNERS-PROMOTIONAL CUT-OUTS OR CUT CORNERS-DRILL HOLE VERY GOOD(VG) THE RECORD WILL SHOW MORE SIGNS OF WEAR-SURFACE SCUFFING-LIGHT SCRATCHES MORE VISIBLE SURFACE NOISE MORE NOTICEABLE-LABEL MAY HAVE STICKERS-.THE JACKET WILL HAVE SCUFFING AND EDGE WEAR AND MAY HAVE SEAM SPLITS-RING WEAR-TURNED-UP CORNERS-NAME WRITTEN. GOOD(G)THIS RECORD WILL HAVE EVEN MORE WEAR WITH SIGNIFICANT SURFACE NOISE-SCRATCHES-AND GROVE WEAR.IT SHOULD PLAY WITHOUT SKIPPING-JACKET MAY HAVE SEAM SPLITS-RING WEAR-TURNED-UP CORNERS-CUT-OUT HOLES-EDGE WEAR-NAME OF PREVIOUS OWNER WRITTEN.


PLEASE NOTE: WE SHIP FROM CANADA BY USPS VIA OUR OFFICE IN CHAMPLAIN,NY.IN ORDER TO GIVE YOU THE BEST COMPETITIVE PRICES. ALL REASONABLE OFFERS ACCEPTED.