Kurt Harris Emperor Of My Baby's Heart ULTRA RARE DIAMOND DJ NORTHERN SOUL 45!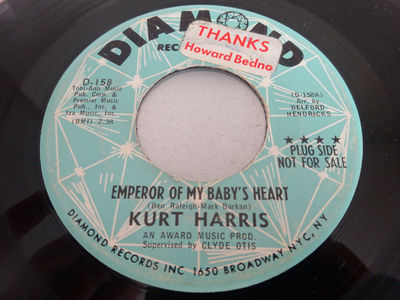 Sold Date: March 19, 2017
Start Date: March 19, 2017
Final Price: $299.00 (USD)
Seller Feedback: 2165
Buyer Feedback: 343

FREE WORLDWIDE SHIPPING!

Hideously rare promotional copy of Kurt Harris' northern soul monster Emperor Of My Baby's Heart.  What makes this one extra special is that legendary Cobra Records (Magic Sam, Buddy Guy, Otis Rush to name a few of his signings) owner Howard Bedno personally pushed and promoted this copy and it still has his personal thank you sticker on the A side.  Vinyl is VG- because of 2 or 3 scratches on the B side that can be felt.  The A side (the reason you're reading this) has some light paper scuffs and plays beautifully with very little noise.  Labels are in great shape with even the smallest punctuation perfectly legible and just a tiny hint of ring.