U2 Rattle And Hum ULTRA RARE Spanish Promo Vinyl LP Box 5I 303400 Folder Box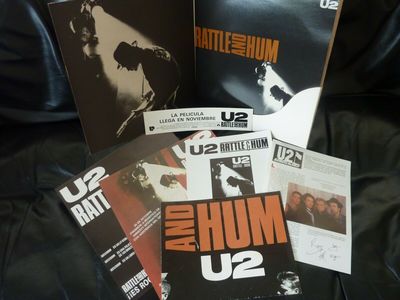 Sold Date: May 14, 2019
Start Date: May 4, 2019
Final Price: £322.00 (GBP)
Bid Count: 4
Seller Feedback: 1290
Buyer Feedback: 888

U2 Rattle And Hum ULTRA RARE Spanish Promo Vinyl LP Gatefold Fold-Out Folder Memorabilia Poster Leaflets Sticker BMG Ariola Madrid Promotional Box
The four leaflets and sticker are in excellent / near mint condition. The colour leaflet is 12" square and is advertising the film coming out in November and also about a premiere of an Amnesty International Benefit in October. The black & white leaflet is 12" square and is advertising the movie, book and LP record. The black & white A4 leaflet is advertising the book based on the movie. There is a colour A4 leaflet that is advertising the Spanish magazine Bandera Blanca (White Flag) and what the subscription price is etc, as well as all of the exciting attributes inside the publication! The black & white sticker is advertising Movie Is Coming Soon! The poster has folded lines and small marks and I would consider the condition to be good instead of very good.
The records themselves have very few slight light scratches which can only be seen in certain light conditions and do not affect play, and are in very good condition otherwise. There are a few small mildew marks on the middle stickers.
The main gatefold folder, and inner insert sleeves for the records have got mildew markings on all sides and I would say that the overall condition is only good because there are no other marks apart from the mildew markings, and I therefore think they could be cleaned off professionally. They don't have any rips or tears, apart from a slight crease on the right hand edge where a thumb has creased the cardboard slightly.
The overall condition of the set is very good / excellent. 
Sorry for all of this information, but I am trying to be as honest as I can with this as I don't want anyone to be expecting something that is in excellent condition all around.
This auction will run until it's finished. Please do not offer a 'Buy it Now' price.