Arctic Monkeys I bet that you look good on the dance floor 7" Vinyl single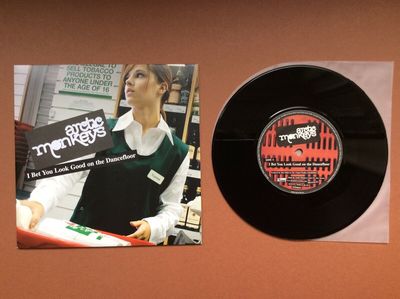 Sold Date: August 7, 2021
Start Date: July 31, 2021
Final Price: £16.00 (GBP)
Bid Count: 9
Seller Feedback: 1462
Buyer Feedback: 0

 Arctic Monkeys I bet that you look good on the dance floor 7" Vinyl single
Sleeve - VG, some marking/indentation to front, otherwise sharp. See pictures. Record - VG, a few light marks and some scuffing to one side, but plays fine.
I package record outside sleeve, both in protective covers, in sturdy cruciform mailers.
If there are any problems with your order whatsoever then please get in touch. I offer a 100% money back guarantee.
Shipping worldwide! I'll combine international shipping, just wait for the invoice after the auction.
Check my feedback
Please feel free to ask any questions
See my other items for sale
Near Mint - Excellent - Very Good - Good - Fair - Poor