Metallica Master Of Puppets Vinyl LP UK MFN DMM plus poster factory sealed !!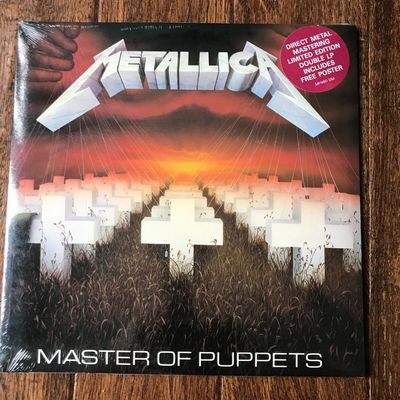 Sold Date: September 13, 2021
Start Date: September 13, 2021
Final Price: $500.00 (USD)
Seller Feedback: 1203
Buyer Feedback: 24

Incredible very rare  UK archive copy of METALLICA - MASTER OF PUPPETS.
This is the 1987 Music For Nations pressing On double LP
45 RPM
DMM & POSTER and Factory Sealed compete with hype sticker !!
Cat no : MFN 60 DM
No cut outs , deletion holes and splits to cellophane . Just the two of 3 vent holes .
Study the photos and see for yourself .
Doubt you will ever find another one come up for sale anytime soon .
I bought two copies on the day it was released .
This copy I kept filed away in my collection .
This the real deal ...
I've never seen another sealed copy in 30 years of collecting 
From a pet and smoke free home .
Will mail out in strong packaging 
All questions answered
Please study all photos