RARE ASD 488 Franco Corelli Neapolitan Songs 1st UK G/C Stereo LP NM/NM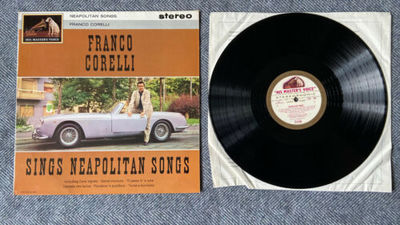 Sold Date: May 13, 2022
Start Date: May 3, 2022
Final Price: £295.00 (GBP)
Bid Count: 16
Seller Feedback: 3215
Buyer Feedback: 3770

Lovely copy of  this first UK HMV EMI Gold and Cream label LP. issued 1962. Vinyl looks and plays NM,  sleeve NM, great cover picture!  
COMBINED POSTAGE:  I am happy to stockpile LPs if you want to make a larger package to save on postage costs (over 2kg, I will send with DHL)
PLEASE NOTE - you are bidding on original 1960s vinyl - this will not have completely silent surfaces, even when in unplayed condition - but the sound and recording quality is generally excellent.  If you are looking for absolutely perfect blemish-free reproduction, please bear this in mind.
First issue of this UK HMV EMI-pressed Stereo LP ASD 488, released 1962
Earliest UK issue, Gold and Cream label 
"Franco Corelli Sings Neapolitan Songs" (see photos for details) Sung by Franco Corelli, with an orchestra conducted by Franco Ferraris
160g vinyl appears NM, superb gloss, flat, barely any signs of handling or previous use visible under bright light Labels NM maybe a few spindle trails visible. 
Fully play-tested both sides NM. Plays really excellently, good quiet surfaces with low levels of background groove noise (just a little scattered light noise in first few grooves on side 1), no defects, no wear or distortion, and superb recording quality.
Condition of first issue front-laminated triple flipback sleeve is NM.  All intact, very crisp and clean overall, hardly any signs of wear or handling, spine undamaged, back very clean - see photos.
Original issue "Outstanding Artists" poly-lined inner sleeve NM
More photos available on request
I will combine postage for multiple items (even if ebay says I won't!) - please contact me if you are intending to bid on more LPs - thanks!
Payment please within seven days of auction ending; foreign bidders please wait for invoice. 
These LPs are all from my personal collection, which has grown much too large, and so I am thinning down, as I won't be able to listen to all of them in one lifetime.  I will be putting up for auction mainly classical LPs from the advent of LP in the early 1950s until the 1980s, but principally early stereos (late 50s and 60s), rare repertoire, and often first or early pressings.  There will also be some 1960s-80s rock, pop, blues and jazz
The description will state if the LPs have been fully auditioned (for rarer material, or when the visual grading is unclear),spot-auditioned, or if not otherwise stated, just visually graded.
For listening tests, stereo LPs are played either on LP12/Ekos/Dynavector Karat17D2 or Garrard 301/SME 3009/Denon DL103R, while monos are tested on Thorens TD160/SME 3009/Denon DL102, all through Quad QC24/Quad IIs/ESL63 system ).  Visual grading is under tungsten-halogen spotlight or direct sunlight (when available in England!)
A few LPs will have been professionally cleaned, and this will be stated in the description.  In my experience, most used LPs will benefit from professional cleaning which reduces background surface noise and often removes many of the pops and clicks, especially when these are due to debris, grease etc on the surface.
GRADING  (obviously slightly subjective and often dependent on original pressing and vinyl quality) - see description of each LP for more detail. 
Mint  Only used for sealed and unopened records (which may of course have pressing defects which are not visible until unsealed).
NM     Visually perfect, no scuffs or other marks, and plays without any problems, and barely audible surface noise (depending on date and pressing).  No spindle trails on label. Jacket (sleeve) or box will be almost perfect.
EX+    The occasional extremely light mark, fingernail scuffs etc that should not make any difference to the sound, possibly a few spindle trails on the label. Playback should be similar to NM.  Jacket or box may have very minor defects such as slight creases, or ring-wear but these will be not very noticeable
EX     Only one or two very minor marks that might give the occasional low level pop or click but no serious scuffs or scratches and the record should play without any distortion or serious problems. Surface noise may be slightly more apparent than NM but still not at all distracting.  Jacket or box may have some minor defects, slight distortions or edge knocks, small amount of discolouration or slight laminate peel etc.
 VG+    Minor surface marks that will give occasional background noise or a few repeating click and pops for a short period, or more noticeable surface noise, but on the whole the record should play without serious problems, and will still be enjoyable to listen to.  Sleeve or box may have noticeable defects (laminate peel or loss, small edge splits or repaired tears, staining or discoloration, slight sticker damage etc), but no major tears, losses, or bends.
VG:   There are marks that will cause some deterioration in the sound, such as repeating clicks from shallow scratches, or higher levels of background noise but this will not be serious enough to cause a major distraction to the listener.  Very slight inner groove or "side-end" distortion may be present on loud passages. Sleeve or box might have splits (repaired or otherwise), pronounced ring-wear, tears, sticker damage, writing,or noticeable creases or bends. 
Only very rare records will be offered for sale in less than VG condition; the description will give details of all the defects in such cases.
Postal charges:                      
Calculated by weight, including packaging
UK:  Royal Mail "signed-for" 1st class (insured up to £50)  
up to 2kg (normally 6 or 7 LPs)                       £5.50 (Second class £4.50)
Over 2kg, Parcelforce Express 48 prices (insured up to £100):
Up to 5kg                                                       £13
Up to 10kg                                                     £16
Additional insurance can be purchased, please ask for a quote.
Europe signed and tracked postage (insured up to £50):
1 LP £12.00 
2 LP  £13,00
3 LP  £14.00
4 LP £15.00
5 LP £16.00
Rest of the World (except USA and Australia) signed, and tracked if available, air mail (insured up to £50):
1 LP  £17.00 
2 LP  £20.00
3 LP  £23.00
4 LP  £25.00
5 LP  £27.00
Tracked and signed-for postage to the USA and Australia has unfortunately recently become more expensive:
1 LP  £19.00 
2 LP  £22.00 
3 LP  £25.00 
4 LP  £28.00 
5 LP  £30.00 
 ·         Larger quantities, please ask for a quote. 
 ·         Boxed sets - the box generally adds the weight of one extra LP.  Please remember that earlier pressings will usually weigh more than later ones (some early mono LPs are more than 200g).
 ·         For all packages insurance is required and I can provide a quote for higher value packages (over £50).  I will always retain proof of postage.
 ·         LPs will be well packed, with extra stiffeners, and with the LP removed from the outer sleeve to prevent seam splits.  High value items will be double-boxed.
 ·         Honest mistakes in grading can occur occasionally, so if the LP is not as described, please contact me within 14 days to arrange return and refund (buyer pays return postage)