Elvis Presley " HEARTBREAK HOTEL" EPA-821 EXCELLENT COVER AND TIGHT SEAMS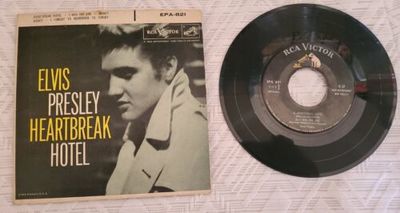 Sold Date: October 25, 2022
Start Date: October 25, 2022
Final Price: $30.00 (USD)
Bid Count: 1
Seller Feedback: 2102
Buyer Feedback: 0

Elvis Presley " HEARTBREAK HOTEL"
EPA-821
RCA Victor label.
Songs include:
Side 1
    Heartbreak Hotel..
    I Was The One.
Side 2
    Money Honey.
    I Forgot To Remember To Forget.
Excellent cover, some minor wear and one 3
      in. void in upper seam. Color is excellent..
Vinyl is clean, no warping or scratches. I not
      being an expert in grading believe vinyl
      is very good, close to mint.
Label is tight and undamaged.
There is not an inner sleeve.
Any questions pertaining to this auction,
       please contact me before bidding.
See pictures of actual item for further
      description and condition.
Shipped USPS Priority Mail.