THE RAVEN - Calamity Jane - fuzz garage Promo 45 rpm - Rust 5123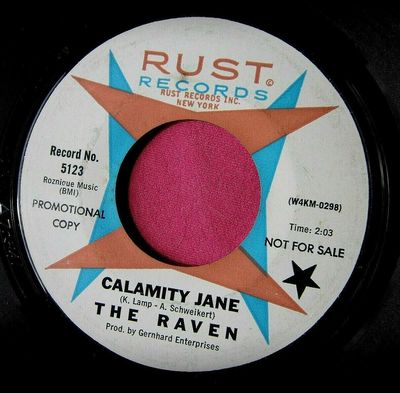 Sold Date: April 14, 2019
Start Date: April 4, 2019
Final Price: $295.00 (USD)
Bid Count: 25
Seller Feedback: 15713
Buyer Feedback: 464
Audio Clips:
To hear audio clips older than 45 days you must become a member. (If you're already a member you need to log in or extend your membership.)
Quality vintage vinyl, accurate grading, fast professional service. Specializing in original 45's and LP's. Selling worldwide on Ebay since 1999.
---------------------------------------------------------------------------------------------------------------------------
The Raven
Calamity Jane / Now She's Gone
Rust 5123
Grade: VG/VG+ to VG+
Nice player, check out the audio transfer taken directly from this disc.
Shipping information is available under "Shipping" to the right of the item photo above. Combined shipping rates offered, so if you are buying more than one item please wait to be invoiced for the best rate. On foreign shipments, import duties, taxes, and charges are not included in the item price or shipping cost. These charges are the buyer's responsibility.

All records shipped next business day upon receipt of confirmed payment. Packed securely in professional cardboard mailers with paper and plastic sleeve. 
Unless noted, all records are original pressings.
Powered by eCommercePlayer.com
Looking to add bulk to your collection or stuff that jukebox? Check out my store Budget categories for clean playing original 45's. Thousands of titles to choose from at $1.25 each. Thousands have sold to scores of satisfied buyers. Add one or more to your order today. Please also check out the Re-issue category in my store, hundreds of titles to choose from in super clean condition.
My Grading Scale ...............
10 (Mint-) My highest grade, a gem quality like new disc with full blazing gloss. Why Mint- and not Mint? Even brand new records are not always absolutely perfect so I don't like to call it that even though they may actually be. 
9 (Near Mint) Virtually performs and looks like a new disc that may have been played and handled a minimum amount. Full gloss still present with possibly a few insignificant marks on the vinyl.
8 (VG++) A very well cared for disc. Shows minor signs of use like some very light paper scuffs or just a hint of groove wear. Vinyl still retains most of its original gloss and plays superb.
7 (VG+) Still a cared for disc, though showing more signs of use such as more light scuffs and/or groove wear, possibly some hairline scratches that are not feelable or affect play.  Vinyl retains a majority of its original gloss and playback fidelity is still excellent.
6 (VG to VG+) The middle ground for vinyl. For an understanding of this in-between grade, please read the description for both (7) VG+ and (5) VG.
5 (VG) Often the most misunderstood and misrepresented grade in the industry.  My VG's are clean playing discs. Vinyl displays more scuffs and scratches but gloss is still present.  Playback still has nice fidelity. There may be some light surface noise on certain low level recordings or on softer passages, but it will be even and not distracting to the listening experience.
4 (VG-) Vinyl has many more scuffs and scratches, some will still have gloss left,  others may not. Many of these often play quite well and make very acceptable fillers until a better one comes along. After test playing, I will usually mark these as plays clean or plays OK (very acceptable). If not noted, disc may playback with some minor surface noise and/or ticks.
3 (G+) Basically the same as a G grade but like the VG-, the playback far surpasses its looks.
2 (G) Typical flea market variety that probably hasn't seen a sleeve most of its life. Expect some surface noise, ticks, etc. but does play through with no skips.
1 (Fair to Poor) Don't expect to see hardly anything offered in this grade.  Unless truly rare, would be more appropriate for skeet shooting.