The MARVELIERS The Spider Early 60's GARAGE R&R INSTRO Joany HEAR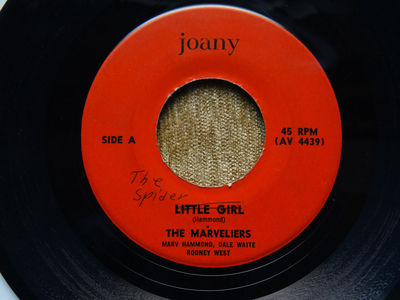 Sold Date: January 11, 2017
Start Date: January 4, 2017
Final Price: $51.81 (USD)
Bid Count: 3
Seller Feedback: 656
Buyer Feedback: 580
Audio Clips:
To hear audio clips older than 45 days you must become a member. (If you're already a member you need to log in or extend your membership.)
HEAR AUDIO BELOW

The MARVELIERS The Spider Early 60's GARAGE R&R INSTRO Joany HEAR   Only info I could find

on this is cataloged with the Doo-Wop group from Detroit, but I do not think it's them. Hear the spider

side below. Little girl side is a early 60's ballad with vocals and early rock style (soft), sung by Caucasian

gentleman. Nice guitar work on The Spider sounds like Peter Gunn. Also the labels are reversed, with writing on them (I did not do)

record has slight warp when playing, both sides play OK with (1.0 tracking force) 

Vinyl = VG-


HEAR AN AUDIO CLIP OF THE RECORD BELOW

*Firefox browser may have a stuttering issue playing. This is not an issue with the record. TO FIX "right-click" on play button, select "save link as" it will be downloaded to you, then you can play the song without issues.
CLICK ON THE RED PLAY BUTTON BELOW TO HEAR THE SOUND CLIP OF THE RECORD BEING SOLD, IF YOUR BROWSER ASKS YOU TO PLAY THE FILE SAY YES (my server is read only and contains no malware, or spyware), or it may just download automatically.  THE

SOUND CLIP WILL BE DOWNLOAD TO YOUR DEFAULT DOWNLOAD FOLDER.  Some browsers may play the song without any prompting. Firefox browser users might have a stuttering issue due to player buffering, this is not an issue with the record.

Chrome will download the file, you can find it in the lower left hand corner of your screen. Edge browser will say file not compatible, but will download anyhow for you to hear. Safari will ask if you want to download, say yes.
INTERNATIONAL SHIPPING CHARGES WHEN PURCHASING MULTIPLE 45rpm RECORDS

1-2   quantity                    $ 11.99 usd
3 or more  quantity           $ 19.99 usd
I may be able to ship (3) 45rpm records without sleeves for $ 11.99 usd  if the records are of a heavier vinyl and the shipment goes over 8 ounces (226 grams), the shipping cost will have to be raised to
$ 19.99 usd and higher for additional records. United States Postal Service rates are actually higher than these figures shown. I am receiving a small discount on shipping and passing the savings to you.

REFUND POLICY
NO PARTIAL REFUNDS      I DO NOT do partial refunds or partial compensations. If you are not happy with your product(s) you may return the whole shipment back for a full refund.

FULL REFUND RETURN POLICY
After receiving the item, contact seller within 2 days, refund will be given as money back after I receive the item(s).  Item(s) must be returned within 30 days. Buyer must pay return
shipping cost. Buyer must provide to me a USPS, UPS or other mail carrier tracking number. Once I receive the merchandise back, a full refund will be immediately issued.

POSSIBLE PARTIAL REFUND POLICY
If the item(s) were part of a LOT of items a percentage of the sold price of the lot divided by the number of defective items can be refunded. These items need to be defective , not just
items you may or may not not have wanted.  I need a photo showing the issue or at the sellers discretion the item may need to be returned back to me first. Example  Say you purchased a
LOT of 100 records and upon receipt 2 records were cracked. Then I can do a refund based on a percentage of the lot as stated. I CANNOT DO PARTIAL REFUNDS OF ITEM(S) BASED ON POTENTIAL RESALE VALUES.SHIPPING
All records are shipped in professional record mailers with filler pads, marked "FRAGILE" and "DO NOT BEND" USA domestic sales will be issued a USPS Tracking number. Some international posts will also be issued tracking if your country and the USA offer this service.


***Notes about categories,styles, and genres....Categories and styles of music that are given for records somewhat limits us to find the proper designated position to offer records for auction or sale. For example
there is a R&B soul category we can select, but there is no longer a "northern soul" style category. While we would place the record in the proper genre, you will notice all the "styles" are checked off. This gives
you and I more maximum exposure helping to find your particular record.
PAYMENT EXPECTED TIME FRAME
_____________________________________
 Please make your payment as soon as possible of winning or buying your item(s), if 5 days after the sale or auction is over I will  send to you a payment reminder as follows:
 "Payment has not been received for this item. We do not rush people to pay and we don't like opening unpaid item cases, especially if they are not frequent ebay users, or

buyers may have just forgot about their item. Please make your payment soon or leave me a message when payment can be made."
 If you are waiting to bid on an item ending in the future and want to combine purchases please inform us that you are waiting. Once payment is received your order will be

promptly shipped the next business day. Once again I thank you for your purchase.
If payment is not made after 7 Days I have to open an unpaid item case (which gives the buyer 4 days more Maximum)

I am not in a hurry to receive your funds, but delays create extra hassle and complications for sellers, in inventory, pricing, and

other logistics. Ebay's suggested time frame for sellers to receive payment is 4 days, but that I think is a little too quick.
CANADA BUYERS
Please wait before paying so I can send an invoice to you with some reduction in shipping charges.

International Buyers please note
Customs Fees, Import duties, taxes, and charges are not included in the item price or shipping cost.
These charges are the buyer's responsibility and must be paid at the time of delivery of the item if they are required.
Please check with your country's customs office to determine what these additional costs will be prior to bidding or
buying. In general items shipped internationally usually takes up to 14 to 28 days to arrive. Customs fees are
normally charged by the shipping company or collected when you pick the item up. These fees are not additional
shipping charges. We will not under-value merchandise or mark the item as a gift on customs forms. Doing that is
against U.S. and international laws.
_______________________________
SHIPPING TIME

All records are shipped 1 to 2 days (weekends and holidays) after buyer payment has finished processing.
be advised media mail does not always, but can take up to 14 days to reach the Pacific coastal states
delays such as Storm aftermath's or Holiday seasons can further add to delays wherever you are located.
International arriving times vary by country and the speed of their postal service. Before any refunds can
be issued for parcels not received please take these delay possibilities into consideration.
Any questions just ask me