RARE CBS OG LP PLACEBO Marc Moulin BALL OF EYES NL Dutch Vinyl Belgian Jazz Funk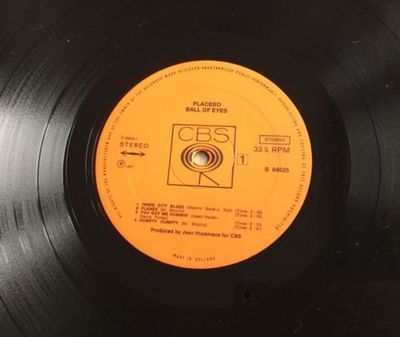 Sold Date: May 18, 2017
Start Date: May 15, 2017
Final Price: £599.00 £400.00 (GBP)
Seller Feedback: 2234
Buyer Feedback: 270

Extremely rare original Dutch CBS copy of one of those 'Holy Grail' jazz funk records, by the crack Belgian outfit Placebo, with Marc Moulin, CBS S 64625, 'Ball Of Eyes', hand-scratched matrix numbers, ending A/B, a first pressing.
Outer-laminated gatefold sleeve is in super shape, a few small and light edge creases, a little storage evidence, with light ringwear and a bit of age browning on the back, but nice, shiny laminate, great colour and structure. Sleeve grades EX.
Vinyl plays really well, good, strong audio with fabulous soundstage, detail and bass on a well-recorded piece of work. At the start of each side there is some obvious crackle and a few clicks, but these settle down nicely and the record plays through on both sides with minimal background noise, certainly not obtrusive, although more audible in quiet parts and between tracks. No jumps, no sticks, and the vinyl is flat, with no warp.There are some very light hairlines and a couple of very light skating lines, but this is a good, solid copy of a very rare record. Visually, it's EX-, playgrade varies between VG+ to EX.
Great care will be taken with packaging and handling to ensure this rarity reaches the successful buyer in perfect condition.