THE DELMONAS VOLUME 2 HELLO WE LOVE YOU 1984 BIG BEAT 7" EP. P/S also Milkshakes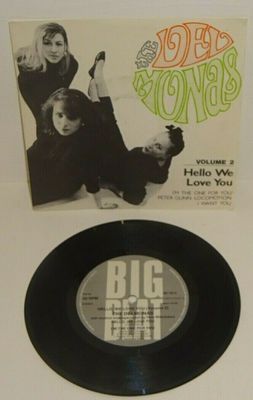 Sold Date: January 7, 2020
Start Date: October 15, 2019
Final Price: £19.99 (GBP)
Seller Feedback: 2066
Buyer Feedback: 1

VINYLSIMPLE45s :
The Delmonas Hello, We Love You [Volume 2] ORIGINAL 1984 UK 1st PRESSING Big Beat Records
- cat. # SW 102 [matrix A-1 / B-1] - 4-track vinyl e.p. - paper labels, solid centre - paper picture sleeve
VINYL CONDITION NEAR MINT
- vinyl this record is unplayed, new, old stock
- labels clean, no writing or stickers
SLEEVE CONDITION EXCELLENT
- clean & straight, mild shelf rub
P&P - for postal rates refer to the 'Payments and Postage' tab - the vinyl is placed into a polythene cover before being inserted into a professional 7-inch card mailer with strengthener
QUESTIONS?
- just ask!