CLASSIC ROCK LOT OF 4 VINYL LP'S -All Vinyl VG++ to EX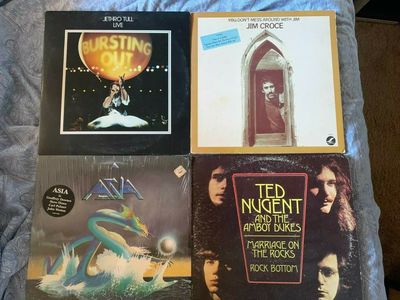 Sold Date: August 7, 2021
Start Date: July 28, 2021
Final Price: $16.51 (USD)
Bid Count: 4
Seller Feedback: 6251
Buyer Feedback: 0

Instant CLASSIC ROCK vinyl lot. You get:
ASIA s/t; TED NUGENT AND THE AMBOY DUKES Rock Bottom; JIM CROCE You Don't Mess Around With Jim; JETHRO TULL LIVE (double album).
The vinyl is glossy, some sides may have a couple of small, faint hairlines, all sounds great, VG++ to EX. The jackets have some surface, edge and corner wear, VG+.
Thank you, and good luck to all bidders!